Affordable Health Care?

Call it what you like.  ACA, Affordable Health Care, ObamaCare, ClintonCare, Single Payer System, Socialized Medicine, or any unprintable word you can think of will do.  A disastrous dismantling of the American health care system will be the result under any name.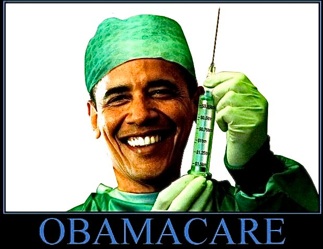 This abomination is considered President Obama's signature piece of legislation.  As two-thirds of the population is unhappy with the law, that is not a legacy to be proud of.

The Administration rejects that discontent as a mere lack of understanding of the benefits of having every American covered with low cost medical insurance and lower medical costs. The White House claims that this discontent will turn to happy smiles when millions of uninsured Americans get on either Medicaid or low cost insurance through the Health Care Marketplace.

That market opened yesterday.  Insurance coverage may start as early as the 1st of January next year.  Customers in the market will find descriptions and the premiums of various medical care insurance policies available in their state.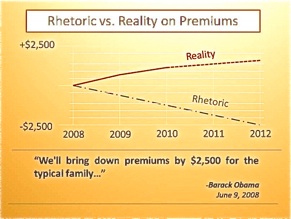 As the costs, coverages, deductibles, and co-pays finally become apparent to even the dumbest among the customers, the percentage of Americans unhappy with ObamaCare is likely to spurt upwards.  Some will begin to moan, "Premiums like that will eat up my family's budget for a vacation to Disneyland.  And look what we get in return--not much after the caps, deductibles, and co-pays.  So to heck with it.  We'll forego the insurance, pay the fine, and go to Disneyland."

Other customers in the market will be shopping to see if there are policies cheaper than the one they had for years.  They are interested because the premiums on those old policies have just sky rocketed.  

Two couples were recently interviewed on a TV news program.  Each had premium notices that tripled what they had been paying.  One family's annual premium went from just over $200.00 monthly to almost a thousand dollars a month.  

They were remembering Obama's promise that, under his plan, "You can keep the coverage you have if you want to."  Sure they can keep it, but can they afford it?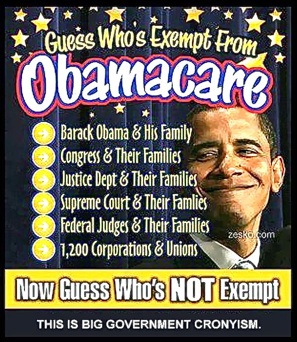 They are wondering why they have not been exempted from the "mandate" the way the President has exempted so many of his friends, members of Congress, and the Executive Branch.

Isn't what's good for the goose is goofdfor the gander?

The answer is, "If you want to be treated by the goose and be exempt from the mandate, just do not buy insurance and pay the fine." 

Under the law, each uninsured person who doesn't have an exemption from the law will owe a flat fee or a percentage of income, whichever is greater.

The penalty in 2014 is $95 per adult, or 1% of taxable family income, whichever is greater. That will rise to $325 or 2% of taxable income in 2015, and $695 or 2.5% of taxable income in 2016. Beyond 2016, the flat fee will be adjusted annually for cost of living, although the share of family income will remain at 2.5 percent. The cost for children is half the adult fee.The maximum penalty for a family of three or more is $2,085.

Those penalties or fines will eat up the family's trip to Disneyland as assuredly as the premiums on an unwanted policy.  So which is the best route?  Every family will choose its own route, but whichever route is chosen is not going to lead to a household elated with the Big Brother who "gave" them ObamaCare.

The only Americans in the hinterlands who may be happy on January 1, 2014, are the takers who will become eligible for Medicaid paid for by the makers. 

Some of those takers may be those lamenting their inability to get out for a photo voter ID card.  So how can they possibly get out for "free" medical care?  What a dilemma, but "Thank the Lord for ObamaCare that saved a poor wretch like me from death because I had no medical care."

So here's the perspective.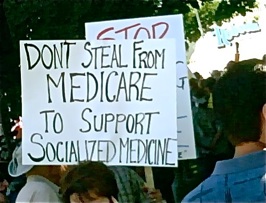 The writing is already on the wall.  The man on the street's growing unhappiness added to general frustration in the medical community over the ObmaCare abomination may give the class warriors exactly what they want.  They will argue that trying to cover everyone with insurance just is not working, so there has to be conversion to a "single payer system"; i.e. socialized medicine.  

Those salivating for this glorified system should consider these statistics from a survey by the United Nations International Health Organization:

Percentage of men and women who survived a cancer five years after diagnosis:

            U.S.                    65%

            England              46%

            Canada               42%

Percentage of patients diagnosed with diabetes who received treatment within six months:

            U.S.                     93%

            England              15%

            Canada               43%

Percentage of seniors needing hip replacement who received it within six months:

            U.S.                     90%

            England              15%

            Canada               43%

Percentage referred to a medical specialist who see one within one month:

            U.S.                     77%

            England              40%

            Canada               43%

Number of MRI scans (a prime diagnostic tool) per million people:

            U.S.                     71

            England             14

            Canada              18

Percentage of seniors (65+), with low income, who say they are in "excellent health":

            U.S.                    12%

            England               2%

            Canada               6%

And now for the last statistic:

           National Health Insurance?

            U.S.                     NO

            England            YES

            Canada             YES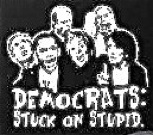 Remember this the next time the class warriors are berating us about the terrible American health care system.

Sweet dreams.

enough