An Ode to Ripple

If you recognize the name Ripple, you're probably old. 


Ripple was a fortified wine, a wine to which alcohol is added to give it a greater kick, which reached its zenith of popularity in the 70's.  It had a 11% ABV (alcohol by volume).  Originally it was marketed for "casual" drinkers, but because of its low price, it developed a reputation as a drink for drunks and destitutes. 
It became popular with young folks.  I was a young folk in the 60's, and it was popular with me.

Ripple was Fred Sanford's alcoholic beverage of choice.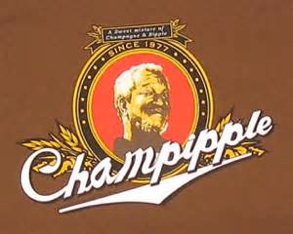 Fred, played by Redd Foxx, praised its virtues on
Sanford and Son
in the 70's.  Fred declared that it was the "national drink of Watts."  Fred concocted Mintchipple, mint julep and Ripple; Cripple, cream and Ripple; Champipple, Champagne and Ripple; and Manischipple, Manischewitz and Ripple.   However, I'm not sure that Fred's praise of the drink did the Gallo company any favors.
Although I no longer drink, I decided to check to see where I could find Ripple today.  To my dismay, I learned that the wine, which began production in 1960, ceased production in 1984.  I guess I wasn't paying attention during the last 30 years.

Why, Gallo, why did you cease production of Ripple?  Perhaps they wanted to clean up their public image.  They had begun to produce wine marketed with actual corks.  More likely is that it simply quit making enough money for Gallo: Night Train, Boone's Farm, Bartles & James were stealing the market from Ripple.  Ripple was tossed aside like an old lover.

I usually drank for affect, not taste. Although I've tried just about every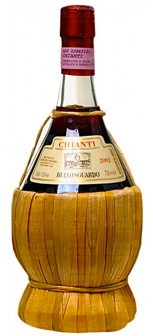 alcoholic drink known to man, wine is the only one that ever appealed to my palate.   The only other wine from my shady past that I can recommend is the Italian Chianti produced in the Chianti region of central Tuscany.  Traditionally the wine came in a squat bottle enclosed in a straw basket.  When I was in the army in Germany, I drank two of these beauties each evening for about a month.  I loved the stuff; however, I realized it was too damned good for my own good and gave it up. 
I suspect many a wine aficionados began with Ripple but moved on to finer wines.  Not me.  I liked Ripple and I'm sure if I could still buy it, I would and begin drinking again.

Today I suspect that the closest wines to Ripple might be Mad Dog, Night Train, Wild Irish Rose, or Boone's Farms.  But, alas, none of these are Ripple.

I hear people whose claim to fame is their knowledge of wine use terms such as aroma, balance, body, bouquet, creamy, chewy, complex, dry, earthy, flabby, floral, herbal, musty, oaky, silky, smoky, spicy, and velvety.  The only words I have to describe Ripple are sweet, tasty, carbonated with a kick.  Because of its sweet taste and high carbonation, to me it was like a Coca-Cola with a punch.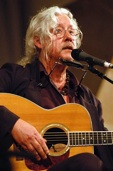 Apparently, Ripple made a dent in the minds of several artists who have immortalized it in songs: blues artist Dan Shoemake wrote "A Red Ripple"; Gordon Lightfoot wrote "Spanish Moss" which gives a tip of the hat to Ripple; Johnnie Johnson wrote "Ripple Wine Dream"; Loudon Wainwright III includes a mention of Ripple in "Rufus Is a Tit Man"; and my favorite, "
Lightning Bar Blues
" by Arlo Guthrie:
                                    I don't need no diamond ring

                                    I don't need no Cadillac car

                                    Just want to drink my Ripple wine

                                    Down in the Lightning Bar

                                    Down in the Lightning Bar

                                    Some people value fortune and fame

                                    I don't care about 'em none

                                    Just want to drink my Ripple wine  

                                    I want to have my good time

                                    Have my good time fun

                                    I don't need no diamond ring

                                    I don't need no Cadillac car

                                    Just want to drink my Ripple wine

                                    Down in the Lightning Bar

                                    Down in the Lightning Bar

                                    When I die don't cry for me

                                    Don't bury me at all

                                    Place my livin', laughin', lovin' bones

                                    In a jar of alcohol

                                    Hundred proof alcohol

                                    I don't need no diamond ring

                                    I don't need no Cadillac car

                                    Just want to drink my Ripple wine

                                    Down in the Lightning Bar

                                    Down in the Lightning Bar

In the course of doing my research on Ripple, I came across an interesting website, Modern Drunkard Magazine the motto of which is "Standing up for your right to get falling down drunk since 1996."

The Modern Drunkard
surmises that the name
Ripple
was chosen because it describes well the  liquid making a pretty motion.  Early TV and Radio spots advertising the wine in an attempt to attract young drinkers use phrases like "a new drink for lively people" and "the ice cold refresher with twice the pleasure" and oddly "the wine that winks back at you." My choice for a company slogan would have been, "Drink Ripple and see triple."  The fact that it came from the Gallo Winery is not mentioned.   The original, Red, my choice, was followed by Pagan Pink and Pear.  Ripple was a huge success with the youth of America in spite of the fact that it was vilified by the wine world.
I'll conclude my ode to Ripple with this bit of trivia: the United Farm Workers during a  boycott of Gallo released a button which claimed, "Nixon Drinks Ripple."  I'm not sure how I feel about that.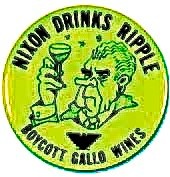 enough