Billy Goes Home

I recently read a newspaper report on a Mr. Cannon: apparently he had checked out of the hospital two days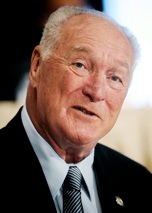 after being admitted for treatment of a stroke.  A spokesman said one of Cannon's family members informed him Thursday that Cannon was on his way home.

Mr. Cannon is seventy-five.  Strokes are not uncommon at his age.  If all you knew about Mr. Cannon was that he had a stroke and was recovering at home, you might not think any more about it.  However, this is not the only time Mr. Cannon, Billy, was on his way home.

He was on his way home from prison in 1985.  In 1983, Mr. Cannon, age 45, was arrested on federal counterfeiting charges; he pled guilty, served two and one half

years of a five year sentence at the Federal Correctional Institution in Texarkana.  The counterfeiting crime was the biggest ever discovered in the US, approximately $6 million in $100 bills.  He was on his way home in '85 broke and disgraced.

Cannon has never given an explanation for his counterfeiting.  When arrested, he immediately admitted guilt.  All he's ever said about it publicly was that he and his fellow co-conspirators were the dumbest criminals ever.  In spite of not revealing his motivation, he's always maintained that he knows who he is.  We do know that he's a man who has survived five heart bypasses and cancer and two and one-half years in a federal prison.  Apparently, part of Mr. Cannon will always be a mystery.

Newspaper reports reveal that Mr. Cannon was performing his job as a dentist at Louisiana State Penitentiary in Angola on Tuesday when he showed symptoms of a stroke and was taken by ambulance to a hospital.

So in addition to being a counterfeiter, Mr. Cannon was a dentist at Angola Prison, a pretty rough place.  I know that when I was a kid growing up in Louisiana, I knew that was a place I never wanted to go.

Apparently, Mr. Cannon had become an orthodontist after a successful earlier career.  He received his Doctor of Dental Surgery degree at the University of Tennessee and an additional degree in orthodontia from Loyola University in Chicago.  Mr. Cannon must have had a pretty sharp mind.

Most folks assumed that he became a counterfeiter because of a failed career as a dentist.  His practice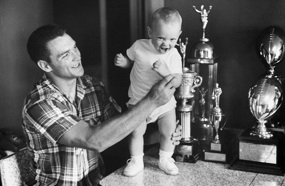 grossed more than $300,000 each year.  His life would get an A+: he was married to his high school sweetheart, fathered five bright children, had a successful profession, and was a sharp real-estate investor.  No explanation there.

After prison, Mr. Cannon was having a tough time restarting his life.  Lawsuits piled up.  He owed almost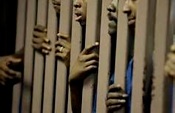 everyone money.  In 1995 Warden Burl Cain of Angola Prison hired him as a dentist for the prison.  Billy grabbed his opportunity with both hands: he fired dentists who wouldn't work, gave prisoners the option of being treated or not, made the operation efficient.  Impressed, Cain put Billy in charge of the prison's entire medical system.  Billy cleaned it up and went back to his dentistry job.  For the first time in a very long time, Billy was a success.

Billy attended Istrouma High School which was in a tough part of North Baton Rouge.  He wasn't an angel during his high school years; he once received a 90 day suspended sentence for stealing a bottle of liquor.  But his main claim to fame in those days was football and track.  He scored 39 touchdowns his senior year and led his team to a state championship in '55.  He ran the 100 yard dash in 9.4 seconds and the 40 yard dash in 4.12 seconds.  He put a 16 pound shot 54 feet.   He was once described as the strongest fast man and the fastest strong man ever.

Billy, after his time in prison became reclusive.  After his success at Angola, he gradually began to come out of his shell.  He voluntarily appeared in public for the first time a few years ago at a banquet for LSU and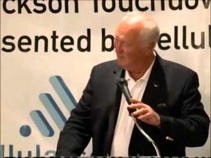 Southern University football coaches.  He began to speak at charity functions, signed autographs, and seemed to be enjoying himself as a public figure.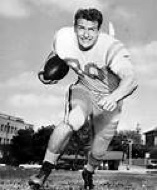 Because of Billy's high school record as an accomplished athlete, he was given a scholarship to play football and run track at LSU.  He had a very successful career there, particularly in football as a running back for Paul Dietzel's National Championship team in 1958.  Billy was voted UPI's player of the year in '58 and '59 and won the Heisman Trophy in '59.  He went on to become a member of the Houston Oilers and helped win championships there during his first two years in the fledgeling AFL.  He went on to the Oakland Raiders and Kansas City Chiefs where he played tight end.  Billy played in six AFL Championship games and was on the winning team three times.  In 1970 after ten years in professional football, Billy went home.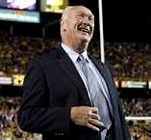 In late November of 2008, Billy walked onto the field at Tiger Stadium.  He was told that his presence was needed there because he had recently been re-elected to the College Football Hall of Fame.  Once Billy was on the field, a drape fell to reveal Cannon's number 20 forever looking out on the field.  The crowd got louder and louder until the stadium shook with appreciation for "Billy Cannon...Great All-American."  It is believed that tears appeared in Billy's eyes.  He had once again gone home.

enough

To see Billy Cannon's 1959 Halloween night run  against Ole Miss