Cowboy Bob Steele

When I was growing up, Western movie stars were our heroes.  Although some westerns were made for adults, all westerns were loved by youngsters.

My favorite cowboy actor was Bob Steele.  I caught Bob at the movie house late in his career.  Fellows like Gene Autry and Roy Rogers were not my cup of tea.  Bob wasn't the handsomest fellow on the block nor did he sing.  Both of these were positives for me.  Bob invariably played a pretty dull fellow who just did what a man had to do. 

Bob's birth name was Robert Adrian Bradbury of Portland, Oregon.  He was born in 1907 into a vaudeville family.  His dad moved to Hollywood in the late 1910s.  His dad, Robert N. Bradbury, became an actor and director and hired Bob and his twin brother to be juvenile leads in a series called The Adventures of Bob and Bill.  Bob went on to be renamed Bob Steele and starred in a series of B-Westerns in the 20s, 30s, and 40s.  He was given minor roles in A-movies such as Of Mice and Men in 1939.

By the time I was viewing Bob on the silver screen, his career as a cowboy hero was in decline.  I mainly saw Bob Saturday morning when theatres ran old movies for the kids crowd.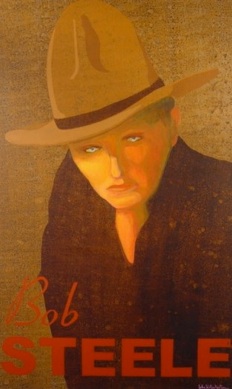 In the 40s, Bob found himself playing supporting roles in A-movies like Howard Hawks'
The Big Sleep
or John Wayne movies such as
Island in the Sky
,
Rio Bravo
, and
Rio Lobo
.  He showed up in the science fiction films
Atomic Submarine
and
Giant from the Unknown
and did a lot of television work.  I had a chance to see Bob on a weekly basis when he took a supporting role in the TV comedy
F Troop
(65-67) in which he played Trooper Duffy who claimed to have been "shoulder to shoulder with David Crockett at the Alamo."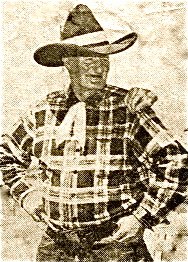 When I first wrote this essay, I found information on the internet which indicated that Bob Steele was the inspiration for the character "Cowboy Bob" in the Dennis the Menace comic strip.  Wrong.  A lady who grew up with the real Dennis sent me an email telling me that Bob Ford, a real cowboy, was the true inspiration for "Cowboy Bob."

I did a painting of Bob a few years ago.  It was based on an old movie poster.  Although it's well done, nobody has ever shown much interest in it.

Bob passed away in 1988, the victim of emphysema.  Bob is still my hero even today.

enough