I met George by visiting his home/studio/gallery in Lafayette, Louisiana.  I had seen some prints of his work at the World's Fair in New Orleans in 1984.  When Linda and I visited with George (see "Art: It's My Nature"), he had just completed his "Ronald Reagan: an American Hero" for the Republican Party, and he seemed quite excited about it.  At the time, George said he was looking for a new subject to paint; well, he apparently found it, the Blue Dog.  I'm sure the dog's popularity even surprised George.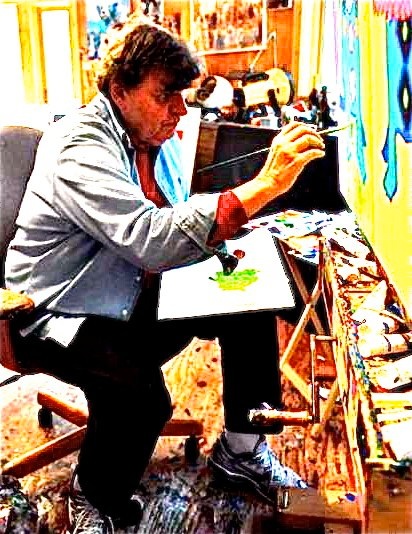 George passed away in December of 2013.

He will be missed.

GEORGE RODRIGUE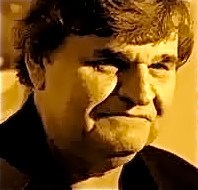 G
eorge Rodrigue
passed away in December after a long battle with cancer.
M
ost folks today know George as the "Blue Dog" man.  I met George in his gallery-home when we were both much younger.  I had first seen his work at the Worlds Fair in New Orleans and learned that he lived in Lafayette.  The first time I visited his gallery, George wasn't around. The next year when I passed through Lafayette on our way to New Orleans, I caught George at home.  He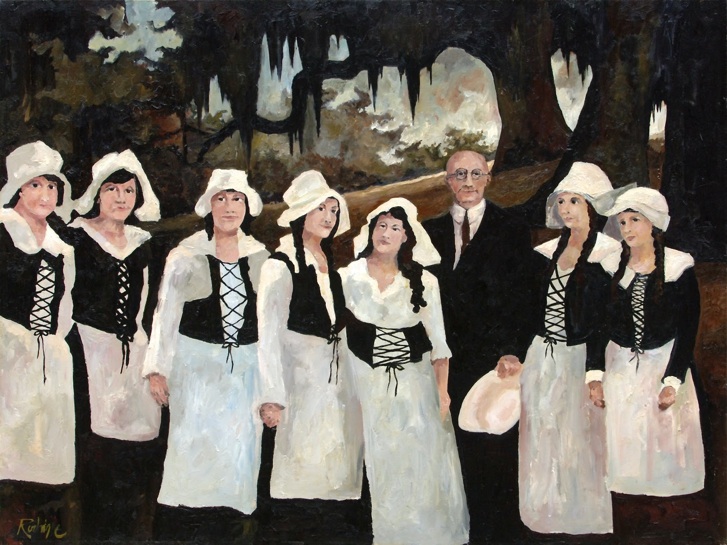 was still the Cajun Artist George, not the Blue Dog George.  We bought a couple of his Cajun prints, but after mistakenly thinking that the $250 Ronald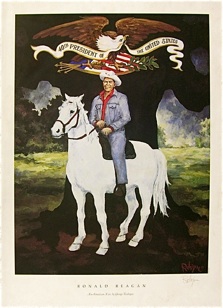 Reagan print, "An American Hero," that he had shown to  me on the pool table in the gallery was only $25, George signed it and labeled it as an artist proof and gave it to me for $25. 
G
eorge was a regular guy with a great talent.  I recall that he told me that he was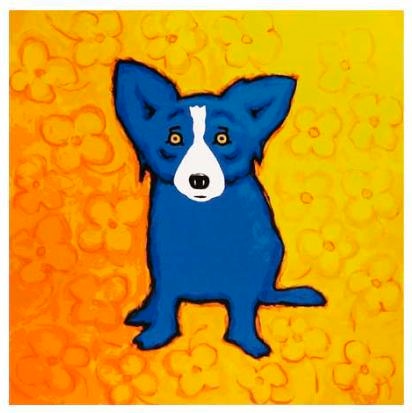 searching for new subject matter: I guess he found it with the Blue Dog whose popularity probably even exceeded George's expectations.
I never saw George again after our initial meeting, but I've followed his activities through the media.  I sent George an email to ask him if he was interested in participating in this website.  His son wrote me back and told me that he approved.

George was a heck of guy.  He'll be missed.

GEORGE RODRIGUE

Artist George Rodrigue was born and raised in New Iberia, Louisiana, the heart of Cajun country.

It was in the late 1960s after completing his art studies at the University of Louisiana at Lafayette followed by the Art Center College of Design in Los Angeles that Rodrigue returned to Louisiana and developed his unique style.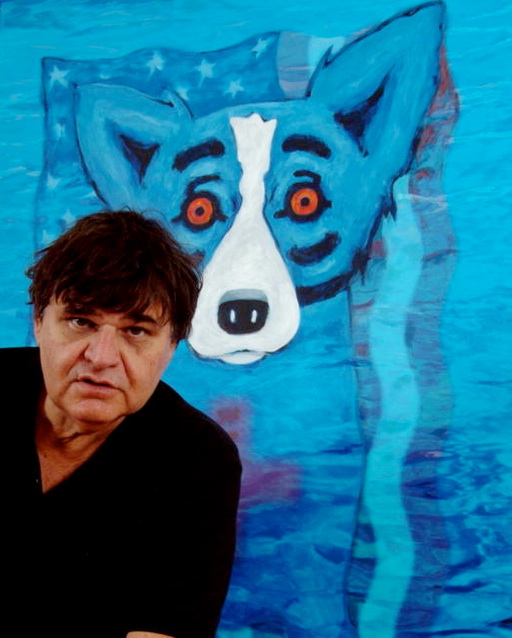 T
hrough much of the 1970s and 1980s, Rodrigue painted his Cajun heritage, including traditions such as gourmet societies, quilt-making as well as scenes associated with the music, food, and festivals of his home area. He gained a reputation as a portrait artist which lead to paintings of five Louisiana Governors, including Huey Long and Earl Long, followed by commissions from the Republican and Democratic National Parties for portraits of Presidents Ronald Reagan, George H.W. Bush, and Bill Clinton.

Today, most folks know George for his "Blue Dog."  To say the blue dog has become popular doesn't do it justice.  George has painted and printed and published the Blue Dog in just about every setting possible including the abstract.    The Blue Dog became the spokesman for  products like Absolut Vodka and Xerox.

In 2008 the New Orleans Museum of Art held a forty year retrospective, Rodrigue's Louisiana: Forty Years of Cajuns, Blue Dogs, and Beyond Katrina. With nearly 60,000 visitors, the exhibition was the most successful in the history of the museum for a living artist or contemporary show.

http://www.georgerodrigue.com/

GEORGE'S GALLERIES:

Rodrigue Studio New Orleans
730 Royal Street
New Orleans, LA 70116
Phone: 504-581-4244
info@georgerodrigue.com

Rodrigue Studio Lafayette
1434 S College Rd.
Lafayette, LA 70503
Phone: 337-233-3274
Hours and news
info@georgerodrigue.com

Rodrigue Studio Carmel
New location!
West side of Dolores between Ocean and 7th
PO Box 5686
Carmel, CA 93921
Phone: 831-626-4444
Hours and news
info@georgerodrigue.com

GEORGE'S UPDATES:

To see videos of and about George, go to

http://www.georgerodrigue.com/rodrigue/videos.htm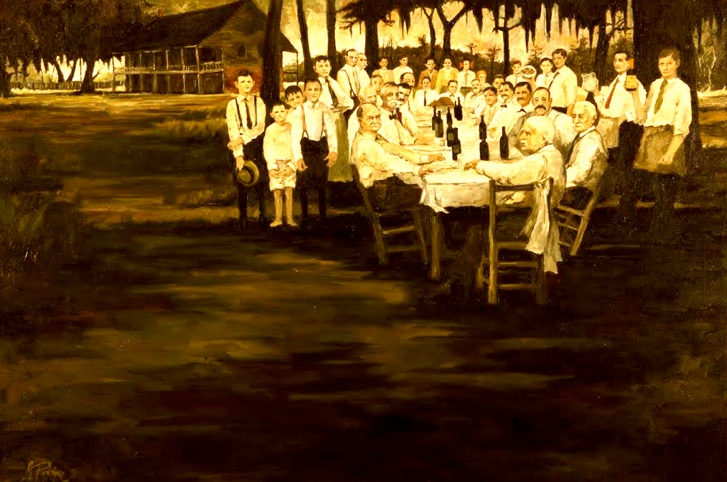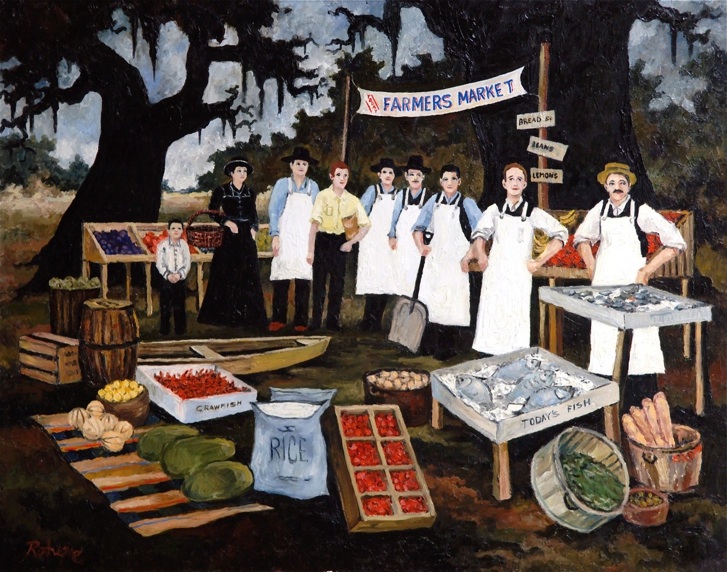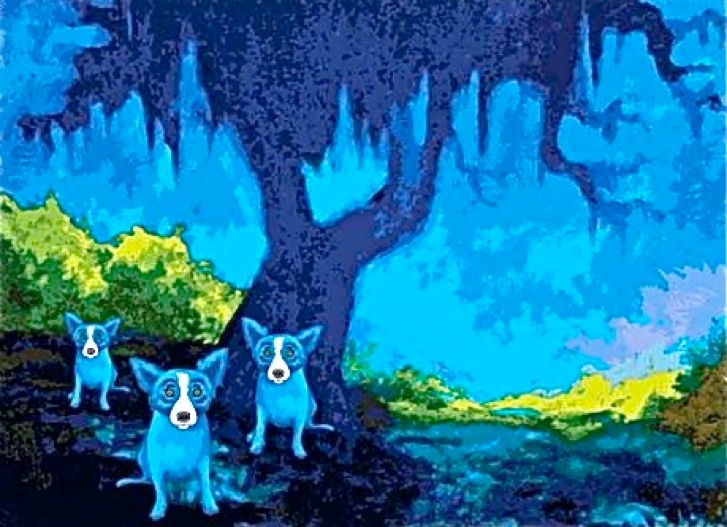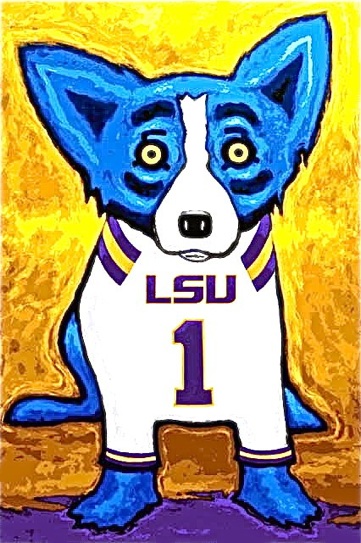 enough