Harrison Barron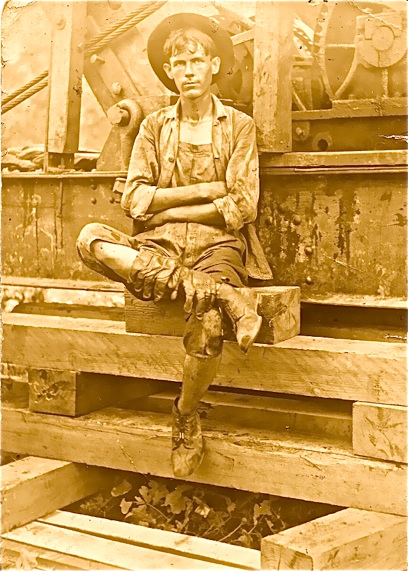 Lately I've been thinking about my grandfather, Harrison Barron.  He was my mother's father.
He died of a heart attack when I was about three.  I almost have memories of him.  I say "almost" because over time I'm not sure whether the memories are created or actual memories.  An almost memory is of him reassuring me that a tractor coming down the road was not a big insect.  One memory of which I am sure is his graveside ceremony: the evening sky was an intense red with the horizons deeply dark, and I was crying hysterically.  Now, what I don't know is why I was crying.  Perhaps it was the sad setting.  Perhaps I realized that I had lost someone important.

Growing up, I didn't think much about him.  In my old age, I feel the loss.

I really don't know much about him.  What I do know about him is that his parents left Mississippi as young people.  He was accompanied by four brothers all of whom became farmers in Louisiana.  I don't know whether it was true or not, but often I heard that the brothers left Mississippi  because they had been moonshiners and were facing pressure from the law.

Who knows?  I never heard any stories of him or his brothers ever breaking the law again.

I do know that he was a farmer, and from all accounts, a good one.  I've heard reports of how they didn't suffer during the depression.

On a more personal note, he liked to drink.  He wasn't a regular drinker, but when he was about to blow a gasket, he would start to scratch his head, a sure sign that he was about to go on a bender.  Apparently he was a fun drinker living among folks who didn't cotton to drinking.

More than once, I heard stories of his fear of his mother, Julianne.  My grandmother, Samantha, told stories of this and particularly I recall his coming home a little wobbly one evening and falling asleep in the dog trot.  Samantha  said her efforts to get him to wake up and come to bed were met with silence, but when she whispered in his ear that Julianne was coming, he was upright and off to bed.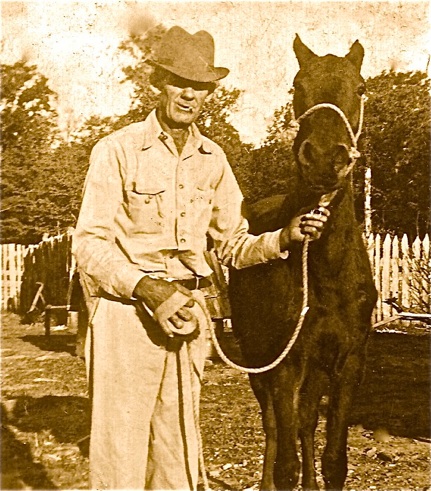 Another story I heard more than once was that he liked to trade.  He would go to town with a horse and come home with a mule.

In addition to farming, he also worked for a while in a sawmill.  Somewhere I have an old photo of him which undoubtedly was taken by an itinerant photographer which pictures him on cross ties his work gloves placed on his knees.  It's a great photograph.  The image conveys his youthfulness; he couldn't have been more than twenty.  He was a handsome fellow who looked like he could use a few more big meals.  One could also see the intelligence and playfulness in his eyes.

I think he did a lot of jobs.  The only other one I can remember is truck driver.  My mother has told me of her riding with him on some of his long haul trips when she was just a kid.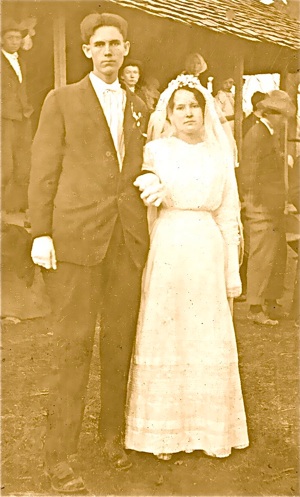 Regardless of the other jobs, he was at heart a farmer.

There is another photo which is both joyful and poignant at the same moment.  It's an amateur photo of Harrison and Samantha, her in her white dress, him in a dark suit wearing white gloves.  They are so young.  Samantha, because of the untimely death of her mother, raised the four younger sisters.  At least, I think, she married a good man, a man with grit, and heart, and joy, and reared a boy and a girl of her own.

Yeah, I suspect his untimely death cheated me a little.  I'll never know how much, but I suspect a lot.

enough