P. G. Wodehouse

The other evening I was watching one of PBS's author talks when the author who was the subject of the evening said words which were like magic to me: "P. G. Wodehouse."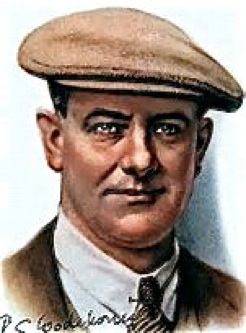 For a moment, I was shocked by the pronouncement's jolt to my memory; but then I was embarrassed by my lack of specific memories of Wodehouse other than that I recalled that when I was a young fellow, I thought Wodehouse hung the moon.  Why can't I remember more about this early hero of mine?

I quickly realized that I couldn't even remember how I was introduced to this very British gentleman's writing.  Well, at least I did recall that he was very, very British.

After a little internet research, my detective work paid off: I found that Wodehouse had published Stiff Upper Lip, Jeeves in Playboy in the February and March 1963 issues of the magazine.  Undoubtedly this was my introduction to  P. G.  I was a junior at LSU at the time: of course, I read Playboy; I believe it was part of the required curriculum.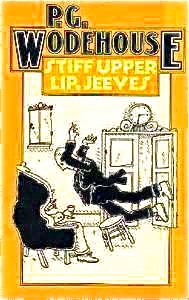 I could only recall a vague sense that Wodehouse had made me laugh.  The "why" eluded me.

Back to my internet research: P. G. Wodehouse was the moniker he used as his author name.  His given name was Pelham Grenville Wodehouse; his family and friends simply called him "Plum."

P. G. was born in Guildford, England, in 1881 to a British magistrate based in Hong Kong.  He was primarily reared by his nannies and his aunts and his uncles, of which there were many, but "Plum" survived this experience quite well referring to his childhood as "like heaven."  He was educated at Dulwich College and expected to go on to Oxford, but family financial reversals caused him to drop the Oxford expectation and to find employment in a bank. 

It didn't suit him, and he began to write, and write he did: almost a hundred novels, many short stories often published in magazines of his day, lyrics for musical comedies with the likes of Jerome Kern (at one time he had five musicals running simultaneously on Broadway); he was called to Hollywood where he made few meaningful contributions but gathered much source material for future writing.

Well, I was no closer to discovering my fascination for Wodehouse.  Okay, I ordered a book from Amazon.  I decided to stick with Stiff Upper Lip, Jeeves which I, probably, read in 1963.  Perhaps rereading it would solve the mystery. 

I didn't need to read very far into Wodehouse's work when I began to chuckle.  Putting the book aside for the evening after my first excursion into Stiff Upper Lip, Jeeves,  a troubling thought crossed my mind: "What kind of weirdo would find this book amusing?  The word choice is difficult, the characters are very, very British, and it doesn't have much in the way of action.  Hmmm, perhaps I'm the only American who finds Wodehouse to be a delight.  Is it possible that there is no one else out there who has my taste in literature?  But, if there is such a person, I'd like to meet him or her.  As Mr. Wodehouse said, "There is no surer foundation for a beautiful friendship than a mutual taste in literature."  However, Wodehouse also wrote, "I am not always good and noble.  I am the hero of the story, but I have my off moments."  Perhaps my love of P. G.'s writing is my off moment.

enough