Philosophy...Yeah, That's the Ticket

I recall that a little over fifty years ago I was lying in my college bunk pondering my choices: philosophy or English?  Yeah, I know: really nerdy.

Being that I've never been one to be indecisive, after some thirty minutes, I made a life guiding decision: English.

Now, don't get me wrong: philosophy as my degree goal was not dropped lightly.  My introduction to philosophy in the classroom came from Professor Small.  Good lecturer and probably a good man.  I've kept the textbook from that class even til today.

On the other hand, there were the English courses which aren't so much about the English language as they were about fiction and nonfiction written in English; in other words, literature.

I don't recall any teachers who were particularly impressive, but I liked to read and I still had a curious mind.

English seemed to offer a broader avenue down which to pursue my need for knowledge.  Yeah, once again, pretty nerdy.

So English it was to be.  Got my degree, but then I had no idea what to do with it.

After a couple years with Uncle Sam, I returned home and began teaching high school English in a rural school.  I liked the school; I liked teaching; the rest, as they say, is history.

But back to the path I did not choose, philosophy.

I've read works by various philosophers through the years.  Some I even finished reading.  Some I even understood…some not.

However, another reason I did not choose philosophy was the same reason I did not choose psychology, an early college interest: too many questions with too few answers.  Well, I guess that's the nature of philosophy: it tries to answers questions about subjects which don't lend themselves to absolute answers.

To jog my memory, I went to the internet and asked for a list of philosophers.  Oh my gosh!  So many!  I looked over the list and realized that a lot of these guys and gals who had been added to the list of philosophers were considered troublemakers, not philosophers, when I was doing my little college romp in philosophy.

My intent had been to gather a little information on some of the top philosophers in order to improve the edification of whomever stumbled across this essay.  I decided there were just too many to include in a single essay, so I rethought my thinking and decided to stick to the Greeks.

Unfortunately, currently Greece is a garbage pit of European liberalism, but a few thousand years ago, the Greeks had it going on.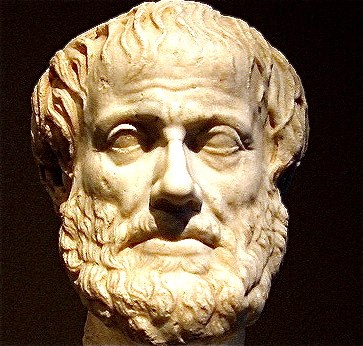 At first I thought I'd take a look at Socrates, Plato, and Aristotle.  Again, too much information for my modest essay.  So I decided to stick with the big guy, Aristotle (384-322 BC).

Aristotle's big claim to fame was that he was the science and philosophy teacher of Alexander the Great, you know, world conqueror.  Oh, yeah, Plato taught Aristotle everything he knew.  Not really, but he was his mentor.

Aristotle was a know-it-all who knew, well, pretty much all there was to know in the world during his time.  He was kind of the Google of his time…only better.  He had it all and is considered the creator of the first comprehensive system of Western philosophy.  He knew and wrote on aesthetics, morality, science, logic, politics, and metaphysics (fundamental study of reality). He was a walking, stuttering university.

Aristototle's dad was a doctor, but  little "A" had little interest in medicine,  and at eighteen he was off to Athens and Plato's Academy…loved it.  Stuff happened: Plato was executed, the school went downhill, back to Marcedon, became head of the Royal Academy, and then established his own school in Athens, the Lyceum, became tutor to Alexander, encouraged him to conquer the East, and, of course, he did.  More stuff happened: Alexander died, Aristotle fell out of favor with the powers that be, and he went home to his mom's place in Chaicia.

While there he did a lot of writing much of which has been lost, but what has survived is pretty dog- gone impressive.  Name a subject and he could have easily said, "Been there, done that."

He died a natural death in 322 BC and was buried next to his wife.

Let's take a look at a few quotes from his writing.  Of course, I've picked ones which appeal to me, and I've footnoted a few…because I can.

Habits

Quality is not an act, it is a habit.

*

Good habits formed at youth make all the difference.

*

Men acquire a particular quality by constantly acting in a particular way.

*

Of course we are all famliar with habits, good and bad, but we all know that good habits serve us well and help form who we are and who we become.

Human Interaction: Dealing with Folks

It is the mark of an educated mind to be able to entertain a thought without accepting it.

*

It is just that we should be grateful, not only to those with whose views we may agree, but also to those who have expressed more superficial views; for these also contributed something, by developing before us the powers of thought.

*

Yeah, this brings to mind some of the recent political discussions which I've had.  A lot of you folks just don't' have the proper mind set for these discussions.

Poetry

*

Poetry is finer and more philosophical than history; for poetry expresses the universal, and history only the particular.

*

I use poetry for humor more than truth, but, who knows, some truth may sneak in.

Art

*

The aim of art is to represent not the outward appearance of things, but their inward sigficance.

*

I usually don't think this deeply about my art, but I do know that what I paint ain't reality.

Teaching

*

Those that know, do. Those that understand, teach.

*

Those who educate children well are more to be honored than they who produce them; for these only gave them life, those the art of living well,

teach.

*

The first of these has been misquoted for centuries by Americans as. "Those who can, do; those who can't, teach."  Kiss my grits.  As for being honored, kiss my grits.

It Ain't All Sweetness and Light

*

The ideal man bears the accidents of life with dignity and grace, making the best of circumstances.

*

I hope no one told you that life was going to be a cake walk.

Nature

*

In all things of nature there is something of the marvelous.

*

Aristotle spent a lot of time hanging around with plants and animals studying them.

Wit and Humor

*

Wit is educated insolence.

Been there, done that.

*

The gods too are fond of a joke.

*

Probably my favorite quote.  After all, God or the gods created us.

Other Stuff  Worth Reading

*

Courage is the first of human qualities because it is the quality which guarantees the others.

*

The energy of the mind is the essence of life.

*

No excellent soul is exempt from a mixture of madness.

*

Politicians also have no leisure, because they are always aiming at something beyond political life itself, power and glory, or happiness.

*

The young are permanently in a state resembling intoxication.

*

Jealousy is both reasonable and belongs to reasonable men, while envy is base and belongs to the base, for the one makes himself get good things by jealousy, while the other does not allow his neighbour to have them through envy.

*

We praise a man who feels angry on the right grounds and against the right persons and also in the right manner at the right moment and for the right length of time.

*

A great city is not to be confounded with a populous one.

*

Republics decline into democracies and democracies degenerate into despotisms.

*

Men are swayed more by fear than by reverence.

*

Without friends no one would choose to live, though he had all other goods.

*

Even when laws have been written down, they ought not always to remain unaltered.

*

I just have a couple of final notes on Aristotle.  You're probably thinking, well I agree with these quotes, and I've thought the same thoughts, but I've never spoken them aloud and have never written them on paper.  I know.  We seldom do.  Thanks, Aristotle.

enough