Purls of Wisdom

How Learning to Knit Changed my Life

Last month marked the first anniversary of my learning to knit.  I usually say I taught myself to knit, but in truth credit goes to the authors of The Complete Idiot's Guide to Knitting & Crocheting, some random YouTube videos, and some lovely women at a couple of yarn stores in Kansas.

I firmly believe knitting has changed my life, but before I explain how, I must explain why I learned the skill.  For most of my life, I viewed hand sewing as a skill from the past, something now done only by grandmotherly types.  Until last year my sewing consisted primarily of darning children's clothes, though I am rather an expert on teddy bear surgery, also.

In fact, it was surgery that lead me to knitting.  I have been a registered nurse since 2004, and a surgery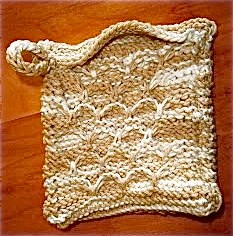 nurse from then until last autumn.  A lack of job opportunities in my current home of Wichita, Kansas, put me in a tough spot two years ago, and to pay the bills I had to become a traveling nurse. What is a traveling nurse? In short, we go to the hospitals with a demand. For whatever reason, if they don't have enough permanent staff, they contract us for usually 13 week assignments.  We get paid a lot more than permanent staff, but we also get the bad shifts and the doctors no one else wants to work with.  We get to choose our contracts, but we may not always get to be in the city or hospital we would prefer.
Traveling for me meant leaving my husband and two young children at home.  Hub was up for a promotion at work, and quitting or transferring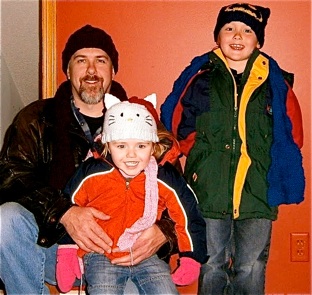 would mean starting over from the bottom, and my son was halfway through preschool. My daughter was not yet two when I started.  I took only contracts within driving distance of home and worked longer shifts, so I could have three day weekends to spend with family.
I needed an inexpensive hobby to pass the time when I was away from home and not in surgery. I tried my hand at sketching, but the perfectionist in me did not like the abstract drawings. I tried blogging, but not having access to my computer any time an idea came to me and the lack of a thinks-it's-smart phone caused that to fizzle.

I can't remember what precisely made me look into knitting, but I'd had traveling coworkers do it and knew it could be tossed in a bag and taken anywhere, so it met the portability requirement.  I found the above Idiot's Guide book at a used bookstore, read a couple of chapters to determine if I really thought I could teach myself, and took a trip to the local craft superstore  which proved supplies could be as costly or cheap as I made them.  My initial investment ran about $10 for a pair of needles and a large skein of yarn.  So far, so good.

I sat in my dreary motel room evening after evening practicing the knit stitch. I made little blue swatches about the size of a cell phone over and over. On weekends at home, the kids got a kick out of ripping the thread out into a long crinkly strand, so I could start over again.  Hub was impressed as well.

Feeling I'd mastered the knit I moved onto purl.  I was lost.  I read and reread my book. I looked at both the left and right-handed sections (I am a lefty). I went to YouTube and discovered the overwhelming number of videos and channels dedicated to knitting at all skill levels.  Finally I went to Google and found a yarn shop that stayed open longer than I worked.

The first evening I stopped in I was cautious.  I didn't buy my yarn or needles there.  I didn't have an appointment. I couldn't afford lessons.  Would they be willing to help me or just answer a few questions?  A big table on the west end of the beautifully yarn-colored shop had an assortment of chairs. Another lady was already sitting and working.  An empty seat had a pile of gorgeous work in front of it.  I sat down and started to fumble in my bag.  Silly Idiot's book, cheap acrylic yarn, scraps of practice pieces everywhere. The woman running the shop came over to greet me and was more than happy to answer questions and look at my work.  She made comments like, "That's a good piece of garter," (which made me giggle, thinking of hosiery) and "Yes, this is purling," and "See how this makes a stockinette." (Again, giggles. Where did they come up with these terms?) I had no idea what she was talking about, but she confirmed I was doing it right.  I stayed until closing, practicing my stitches and talking to the women who joined the table. It turned out a lot of them were originally from Texas, so we compared notes on the different places we'd lived and how we ended up in Kansas.

Wednesday nights at the yarn shop became a big part of my routine. I mastered basic stitches and made my first scarf, dishcloth, and hat there.  I made friends too.  Strangers would come into the shop and start up conversations over what I was working on. Standing over shelves of yarn, we discussed projects and the people who would receive them.  I took my yarn everywhere.  In the surgery lounge, doctors would stop to see what I was working on.  At the park with my kids, I'd start talking to other moms who always started with, "I wish I knew how to do that," or "Is that knitting or crochet?" and were amazed to hear I didn't know the difference before I taught myself less than a year ago.  I showed them projects in various stages that I toted around in my bag, which was now triple the size of the bag I started with last year.  In line at the craft superstore, I became one of those people who talks to my line neighbor instead of scowling impatiently as the non-yarnies do. Yarn does more than create clothes or tea cozies. It creates bonds between people--friendships and families.

In this ever-buzzing world, it is nice to have a reason to sit, to create, to relax, and to have something besides a high score on Words With Friends to show for it.  Learning to knit has not changed me from my introverted nature, but it has given me a way to share with others that I never had before.

Oh, and I am no longer travel nursing.  I have a job I love more than I ever thought possible.  I'm sure it wasn't the only reason I was chosen, but I partly credit getting it to this: when asked how I handled stress, I gave the standard answer but added "and then I go into the break room and knit." My interviewer -- now my boss -- jumped with excitement and was further impressed when I said I'd taught myself.

By the way, knitting is worked with a minimum of two needles.  Crochet is done with a hook.  Now you know too.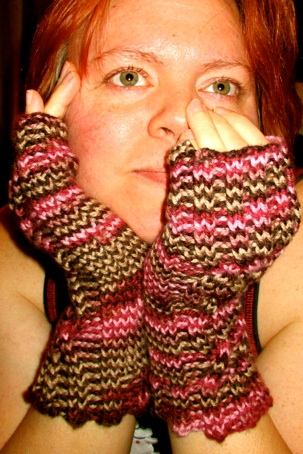 enough