ROY SANDERS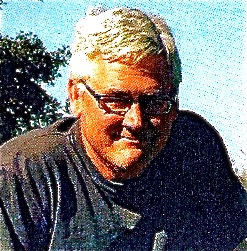 Roy Sanders is a longtime, Texas-based finger-style guitarist. He also plays the banjitar (a six-string banjo). He plays locally around the Brazos Valley in the Bryan-College Station area---as a solo instrumentalist and as a singer-songwriter. He has recorded three CD's of original material, Poor Farm Road in 2010, Smokey Row, The Adventures of John McDougald in 2011, and Come on and Dance, which he recorded as a member of the duo Yellow Prairie in 2014.

He records at Alta Vista recording studio in Austin, Texas.

Roy primarily considers himself an instrumentalist and draws on many guitar influences — Chet Atkins, Merle Travis, Sam and Kirk McGee, Maybelle Carter, Mance Lipscomb, Hobart Smith, Etta Baker, Toy Caldwell and Lindsey Buckingham, just to name a few.

His songwriting is heavily influenced by his family's rich musical legacy — mostly on his mother's side. His mother's family, originally from Selma, Alabama, and later settling in the Texarkana, Texas area, included a number of gifted string and horn musicians, who kept their traditions alive through many generations. His great-grandmother Lillie Terry Rape (1886-1987) played the fiddle and harmonica.  Her brother Robert Irving (Bert) Terry also fiddled, and their brother Woodsey Terry played the guitar. His mother Betty Allison Sanders (1934-2008) played the accordion as a child. Subsequent generations gravitated more towards horns, but Sanders reintroduced string music into the family.

His father's family originally came from the Blue Ridge Mountains of Virginia and North Carolina, moving later to north Alabama and eventually in the mid-1800s to the Ozark Mountains of southern Missouri and northern Arkansas. From there, the family scattered in many directions---to the Midwest of eastern Colorado and western Kansas, back towards Tennessee and Ohio and, for some, to Texas. On his father's side, Roy enjoyed his great uncle Jess Sanders and his wife Dessie playing guitar and singing for him as a child when he visited them at Sulphur Springs, Arkansas. Calling themselves "Jessie and Dessie," they were among his early musical influences.

His songwriting is rooted in the rural, folk traditions---a precursor to what later became known as country music. Today, it would  be considered "roots" music---not quite bluegrass but a close cousin to that.

Sanders, also a family historian on his mother and father's side, took in plenty of stories from elderly family members on both sides as a child visiting them in the summers in Texarkana and in northern Arkansas. What he got was a rich blend of stories, history and plenty of ideas for songs. In 2013, he recorded a two-part, video series of family stories from his mother's and father's sides, encompassing more than 200 years. Sanders is passing the DVD's down to subsequent generations giving them a glimpse into the joys, hardships and tragedies of rural living in early America.

His sound is raw and rustic, creating the feel of rural music of perhaps 100 years ago---all acoustic, no frills.

The guitar instrumentals, though Sanders considers them country, actually cross genres. A century ago, these types of instrumentals would be played at weddings, barn dances, cake walks, reunions, parlor gatherings and so forth. All homemade stuff with no particular label. Virtually every family had someone who could play this type of music, fitting the occasion.

Sanders took up banjitar in 2008, giving listeners another glimpse into early American, rural folk music. The six-string banjo was common from about 1900-1930 on the minstrel show circuit and elsewhere but eventually went out of style. Some modern day roots bands have reintroduced the instrument, and Sanders does so with a finger pluck style, similar Uncle Dave Macon's approach about 100 years ago.

See Roy's CDs in the bookstore.

enough

MY ESSAYS

1   Smokey Row: The Adventures of John McDougald