Spoons

Okay, I can't get it off of my mind…so I'm writing about it and hopefully that will keep me from thinking about it anymore.

It's just a silly little incident in a bar about forty years ago.

When I was a young fellow, in my late twenties and early thirties, I frequented the Country Inn quite often.  At the time, it was a bar, restaurant, and grocery store.  Actually, the old Country Inn was known far and wide.  The Bolshoi Ballet Company once dined there. 

But usually there were folks there that just wanted one of the best steaks in Texas or a few cool beers after work.

When I would wander off from my home ground, Burleson Country, and mention to someone that I was from Somerville, their first response was "steak house."  Yeah, it was the best and cheapest too. 

When I was a regular there, Newt Discher was the owner and proprietor and head cook.  I considered Newt a friend and some nights after closing time, Newt would close the doors, and he and I would drink a beer or two together.  I liked Newt.

The bar part of the Country Inn was basically a working man's bar---mostly railroad men and old retired guys or just fellows like me looking for a little male conversation.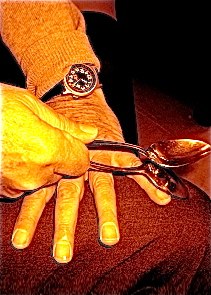 Oh yeah, back to the silly little incident.  Well, one evening when I was sitting at a table at the Country Inn, the conversations and laughter were interrupted by…well, spoons.  There was a fellow about thirty years old sitting on a stool at the bar playing the spoons as accompaniment to the country-western songs playing on the jukebox.  His…musical efforts were good, but he was in the wrong bar.  The crazed look in his eyes didn't help his presentation.
Most patrons called it an early night that evening…spoons?  What the Hell was he thinking?

enough