Why?

Why?  Why is our President expected to be at the scene of a disaster, natural or man made, within 36 hours?  Why, if the President's words of condolence are not what the commentator had chosen, he is accused of not being serious enough?

Why are the serious disruptions of a Presidential visit to a disaster never considered?  

How can calling the governor, mayor, police officers, disaster management officials, and others away from concentrating on rescue, recovery, and restoring power and infrastructure to accompany the President on some publicity shots help the recovery?

Why does the news media insist on showing the disaster shots over and over?  Why do they not spend as much time on the recovery efforts?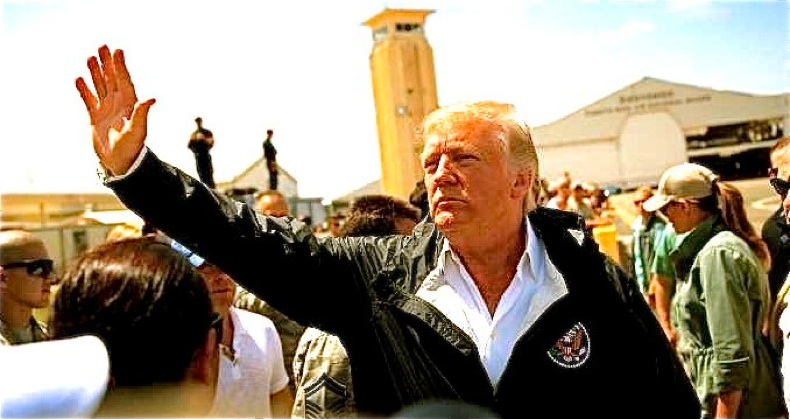 Take Puerto Rico as an example.  Some commentators even blamed what they considered to be slow and inefficient governmental response to Hurricane Maria on not having relief supplies prepositioned on the island.

Why are such brilliant thinkers allowed access to cameras and microphones?  Where could such supplies have been prepositioned to insure protection and survival from a particularly violent storm?

Why is there no continuing coverage of the heroic efforts ongoing to restore living conditions?  Where is the coverage of the efforts to rebuild the totally destroyed electricity grid, getting power to hospitals, nursing homes, and similar health care facilities, the massive job of opening and rebuilding roads throughout the island, or the docking of the U.S. Navy ship at the island?

By contrast, most of the continuing coverage seems to be concerned only with the damage and suffering and a lack of concern on the part of our President to help.  

On a totally different subject, why is the media not interested in why the various heads of federal departments were making so many trips at government expense?

Why, for example, did Health and Human Services Secretary Tom Price make all of those trips?  The nature of his job does not appear to require any trips out of Washington except, maybe, to be the guest speaker at a conference.  But are there that many conferences?

And why is there practically no media coverage of this item from the Disabled Veterans web page?

"VA OIG [Veterans Affairs Office of Inspector General] is now investigating Secretary David Shulkin concerning his decision to use taxpayer money to fly his wife to Europe and pay for her meals.

"The July trip was for ten days to London and Denmark and included watching a Wimbledon tournament match, a river cruise, visiting the Little Mermaid statue, and seeing other sites. VA press secretary Curt Cashour tried to justify the trip stating a VA ethics team approved payment of the Secretary's wife's trip." 

Then there is this why.  Why is what our President said about over paid and over pampered professional athletes disrespecting our flag, national anthem, and the millions who gave their lives in support of those blessed institutions characterized as divisive?  

If the first to kneel in disrespect had been Caucasian, wouldn't our President's words have been praised instead of condemned?

Finally, why is every tragedy met with a knee jerk reaction?  Why is the reaction to the mass shooting in Las Vegas emotional instead of rational?

This was a tragedy, as was the massacre in Sandy Hook Elementary School in 2012. 

The number of deaths in such rampages, however, pales in comparison with the number of deaths by suicide.

Suicide is the 10th largest cause of death in the United States.  Last year, there were 13 suicides per 100,000 people in this country, with 44,193 dying from self inflicted death each year.  The vast majority of these deaths were from self inflicted gun shots.

Why, then, has there been no public outrage over this more catastrophic loss of life each year?

So here's the perspective.

Why doesn't the news media stick to just verifiable facts and leave the interpretation of those facts to those who read or hear the "news?"

enough