Wilbur Shaw

At the age of five, Wilbur Shaw won his first race riding a goat across the finish line in Decatur, Indiana.

When I was just a kid, 10 or 11, he  was one of my heroes.

I discovered Shaw at the library.  My grade school didn't have a library, but within the same block as the school was the city library, nice place, and a young boy could hang out in worse joints.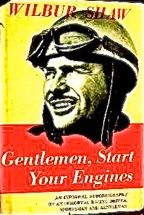 I read a couple of books about Shaw, the multiple winner of the Indianapolis 500.  I remember the title of his autobiography,
Gentlemen, Start Your Engines
.
It's easy to understand why a kid would admire Shaw, being a national hero and all. 

Today, I wouldn't give you a nickel for all the auto races run in our country.  Of course, I've changed over the years, but I suspect so has our perception of racing.  My perception is that it has become more about the machines than the men driving them.  I could be wrong, but it's difficult for me to imagine the drivers today whipping their steeds home at the 500 today.  Maybe it was always about the machines, but we seemed to look more at the drivers than the machines when I was a kid.

Wilbur with his mustashe and racing goggles and lightweight helmet cut a pretty dashing figure.
Shaw participated in the 500 beginning in 1927.  He competed thirteen times in the race winning it in '37, '39, and '40.  '41 was the last year he participated as a driver when, due to a defective wheel, he crashed his car but  finished 18th.  (I know you're thinking how the heck did he finish 18th after crashing his car;  it's complicated and not worth our time.)

World War II closed the racetrack.  Most folks today don't realize what the war did to our nation.  We set aside the frivolous to attempt through a united effort to save the Western World from Germany, Italy, and Japan.  (I bet you forgot all about Italy.)

During the war, Wilbur worked for the Goodyear Company testing tires.  He kept noticing how deteriorated the old "brickyard" (Originally it was paved with bricks.) was becoming and approached the owner, Eddie Rickenbacher.  Rickenbacher, a World War I flying ace and founder and president of Eastern Airlines, informed him that he planned to demolish the track and build a housing development.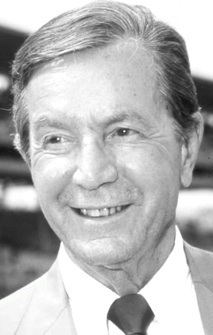 Wilbur went to work trying, without much luck, to find someone who wanted to purchase and restart the Indy 500.  Then he met the Terre Haute businessman, Tony Hulman, owner of Hulman & Company producer of Clabber Girl and other food products.
Hulman bought the racetrack from Rickenbacher and made Wilbur president of the Speedway in 1945, after the war.

The Indy 500 was saved for future generations of race fans when it began again with the 1946 running of the Indy 500, the first time the famous phrase before all races then and since then of, "Gentlemen, start your engines."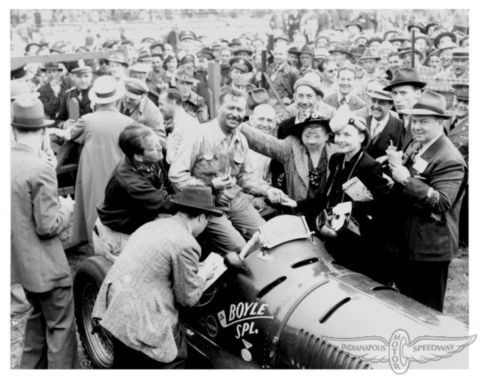 Wilbur died along with the pilot and an artist friend in an airplane crash in Indiana in 1954, about the time I became aware of his glorious racing days.
Each Memorial Day, the last Monday in May, when the call goes forth, "Gentlemen, start your engines," I  take a moment to remember my childhood hero, Wilbur Shaw.

One reason you may have never heard of Wilbur Shaw is that a movie based on his life has never been made…amazing.  But if there were a movie about his exploits, I would choose Errol Flynn in the lead role…crap, there's another name you don't know.

As I mentioned, I wouldn't give you a nickel for racing now, but in the not too distant future I suspect I might have to reduce my offer.  Call me a Humanist if you must, but I'd find it a little difficult to make an offer to see a race simply between cars without drivers.  It's your new world, and you're welcome to it.

enough