A Christmas Carol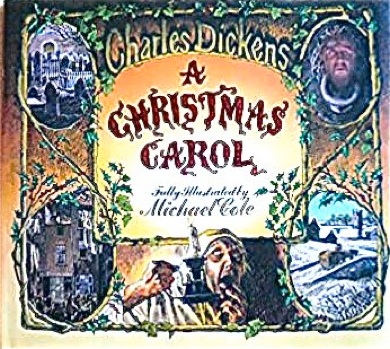 In the fall of 2019, at the Half Price Books in Austin on North Lamar, I came across what is now a gem in my personal book collection— Michael Cole's fully illustrated picture book of
A Christmas Carol
.  It' an amazing work of art as a book!
Cole's "adaptation" of Dickens' classic tale is essentially a graphic novel, with gorgeously detailed illustrations on nearly every page.  From the muted, foggy overview of London as the opening end-pages, to the joys and pains on the faces of Dickens'characters as Dickens' Ghosts visit Ebenezer Scrooge, to the clear, crisp overview of London after Scrooge's transformation that are the closing end-pages, Cole brings the tale alive to the reader in a way that matches a live performance.  But what really sets this book apart, in combination with the illustrations, is that the book uses Dickens'original and complete text!  The only adaptation of the text is when Cole uses comic book style speech bubbles for the dialogue, leaving out the tags.  Did I already say this book is amazing?  I'll say it again then— It's amazing!

If you find a copy of this book, get it!  It's a masterful artistic interpretation of Dickens' masterpiece of storytelling!

Author: Charles Dickens

Illustrator: Michael Cole

Genre: Fiction Picture Book

Target Ages: 9 and Older

Prime Audiences: Fans of Christmas and of Christmas Stories; Fans of Charles Dickens

Publisher: Pagoda Books

Publication Year: 1985 (* The story A Christmas Carol was first published in 1843)

enough