Epilogue

AS AGGIE ROBERT EARL KEEN WOULD SAY, "THE ROAD GOES ON FOREVER"

Note: As was true in the original I Bleed Maroon, some of the following will be personal experiences which I include in hopes that they will rekindle some memories of Aggies during their days at Aggieland and since.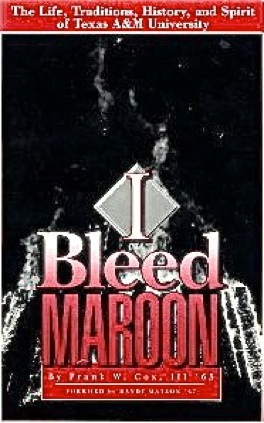 Wow—it's hard to believe that over two decades have passed since the first printing of
I Bleed Maroon
.  Unbelievable is the swiftness with which the years have passed.  Much has changed for the world, America and even Aggieland---lots for the good and some for the not-so-good.  However, some things never change---I still love Natalie Wood; Ted Williams is still the last Major Leaguer to hit over .400; all my living Gator 2 Class of '65 buddies still stay in touch; and the Class of '65 is still the greatest class to ever walk the hallowed grounds of Aggieland. Yet, best of all, Jesus is still the same yesterday, today and forever and remains our Only Hope.  
Enrollment at Texas A&M has grown to more than 50,000 and the campus has exploded with new buildings on both sides of the track.  These improvements include a revamped Military Walk, The Young Men's Christian Association (YMCA) Building, the Memorial Student Center (MSC), The Sam Houston Sanders Corps of Cadets Center and Museum, The Rec Center, Reed Arena and Olsen Field at Blue Bell Park. In addition, changes have begun on Kyle Field (100,000+ seating capacity). The new "On-campus Golf Course" at the main entrance to the campus is in full bloom and adds a needed beauty to the Southeast corner of campus. To say the least, Aggieland looks just a little different than it did when Hurricane Carla, my fish buddies and I hit the campus in 1961.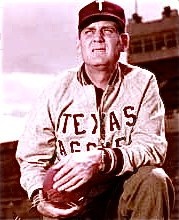 No longer do we have to look back to the days of Bear Bryant, the Junction Boys or 1957 to have a Heisman Trophy winner.  We now have the first freshman recipient ever in the 2012 Heisman Trophy Winner Johnny Manziel.   Other National Award winners include the following: the 1998 Lombardi and Bednarik Award winner Dat Nguyen; the 2010 Butkus Award winner Von Miller; the 2011 Lou Groza Award winner Randy Bullock; and the 2012 Outland Trophy Winner Luke Joeckel.  We have won 7 National Championships in 5 years in Men's and Women's Track including three unprecedented back-to-back-to-back titles for both the men and the women. We also added National Championships in both Women's Basketball and Men's Golf.  The Aggie Equestrian Team continues to dominate the collegiate scene with a total of 11 National Championships. 
Rewards of a higher level were obtained by other Aggie athletes. Quarterback Stephen McGee received the Fellowship of Christian Athletes (FCA) National Male Athlete of the Year Award.  Our Men's Head Basketball Coach Billy Kennedy and Head Baseball Coach Mark Johnson received the FCA's National Coach of the Year Award.

Two of our most under-appreciated Aggies of all time are former Aggie football players Bill Johnston '97 and Corey Pullig '96. Bill's achievements with the Fellowship of Christian Athletes (FCA) is worthy of our thanks and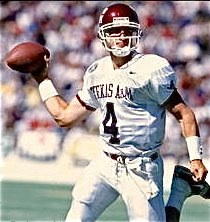 support.  The work he and his staff do affecting the lives of our youth throughout the Brazos Valley is phenomenal. Corey Pullig is the winningest quarterback in the history of Aggie Football.  But more importantly he has carried on the rich Aggie Tradition of serving God and country as a U. S. Marine. Hunter Goodwin, Bucky Richardson and Terrence Murphy are three Aggie and NFL greats that have transferred their athletic skills and risk taking into the business world as outstanding entrepreneurs in our great state and communities.  
Aggies shocked the athletic world in 2012 as we entered into the South Eastern Conference (SEC).  The SEC has proven to be the most dominant conference in the NCAA for years, and we are rejoicing to be an integral player and partner in this highly successful venture. We look forward to the many new friends that we will make and leave behind best wishes to all of our old friends and foes. Gig 'Em Aggies!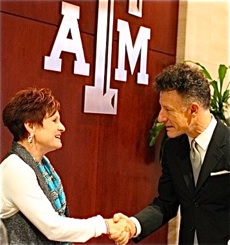 Outside the field of athletics, we have excelled in other areas as well.  For instance, Aggie country singer Granger Smith and his hit record "We Bleed Maroon" and Christian singer Chris Tomlin with the nationally popular Gospel song, "How Great is our God" and many other hits have joined Robert Earl Keen and Lyle Lovett as Aggies who have risen to the top in the music industry.  Other Aggies have excelled in just about every area of life in ways too numerous to mention.  We are proud of all of them who have done it the right way.
Of course we would be amiss to not mention that many Aggies have continued to hold up the long tradition of Texas Aggies serving our country in the military service. Since that infamous day of September 11, 2001 at least 30 Aggies have paid the ultimate price in the ongoing war against Islamic terrorism. In addition, countless others sustained life-long injuries.  These Aggie men and women held the torch high; they hoisted the flag; they fired the volleys; they stood in the gap; they paid the price.  They should be every Aggie's Guide-On.  We salute all of them and their families and commend them for protecting our freedom.  Well done.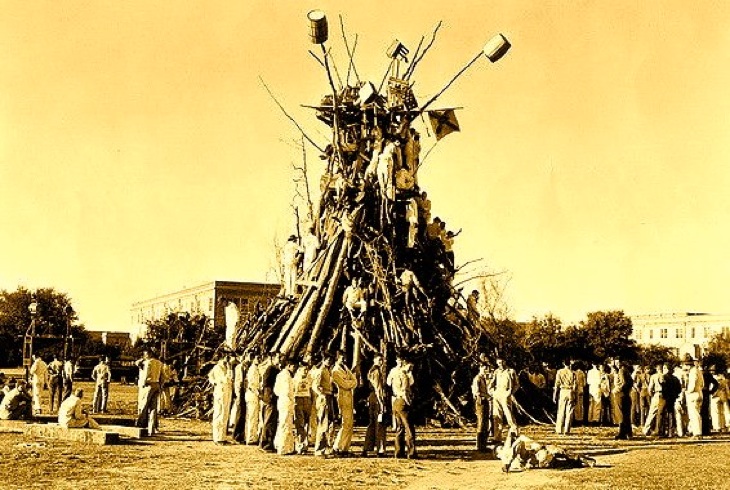 Aggies and the world will never forget the Bonfire tragedy of November 18, 1999.  Twelve Aggies lost their lives and several others were injured. Our minds and hearts will forever be etched with memories of the 12, the Bonfire ceremonies and memorials for the 12, the spontaneous singing of "Amazing Grace," the prayers offered and the varied gifts, including many Aggie Rings, which were left for our fallen fellow Aggies.  The 12 gave their all and the 12th Man gave their best. They were all examples of what true Aggies are all about.  Their stories are carved into the stone arches of Bonfire Memorial to be viewed by all in years to come. We will not forget.

As a result of the tragedy, administrators canceled the future building of Aggie Bonfire on campus. Yet, dedicated Aggies continue to build Bonfire off campus, thus rightly continuing this great Aggie tradition that is a symbol of the undying love and devotion that Aggies have for their school and its traditions.  It is built with respect and love of those who have gone before.  We applaud those who have taken a calculated risk and have worked on and developed methods that make the building and burning of Bonfires safer and better than ever.  That's what Aggies do—research the causes of a tragedy, eliminate the causes, develop better methods and complete the task with renewed effort and commitment. It's the Aggie Way!  America and Texas A&M were built on the determination and hard work of risk takers. Aggies are risk takers. May it forever be so!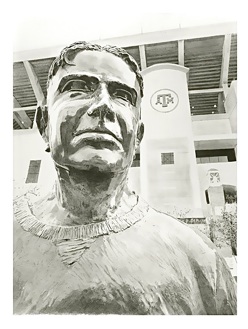 Appropriately, the week after the fall of Bonfire was topped-off with the Aggies' upset win over the "t-sips" on Kyle Field.  With only a few seconds left in the game and the Longhorns driving for a winning touchdown, Aggie defensive standout Jay Brooks caused a Longhorn fumble, and Aggie linebacker Brian Gamble recovered it at mid-field as time was running down to secure the win. Who could ever forget when Gamble, with a mixture of tears and sweat running down his cheeks, fell to his knees and raised his arms toward Heaven in a moment of thanks as the 12th Man roared its approval in a loud but reverent way that will live in our minds and hearts for ages to come.  It remains one of Aggieland's greatest moments.
That is only one of the reasons why Bonfire means so much to all Aggies and another reason it must be continued.  It would be fitting that each student should give at least four hours of their time to work on Bonfire each year.  It is the least current Aggies can do. I strongly encourage all Aggies to participate in the building and the burning of Bonfire in order to experience the feeling of contributing to the bonding that takes place among all who participate in this unique effort and tradition. Bonfire has always united Aggies as does no other tradition in Aggieland.  Build It.  We Will Come!!  Gig 'Em Aggies!

Like many of you, Cheryl and I have kids who grew up from day one loving Aggieland and the principles upon which it was founded. Then, before we could turn around, there they were, old enough to attend Texas A&M, get their Aggie Ring, graduate and become productive members in their communities.  We are happy that both of our children not only came to A&M, but became Ruff, Tuff, Real Stuff Maroon Bleeding Fight'n Texas Aggies. Our son, John Blair '95, was a dedicated member of the Corps of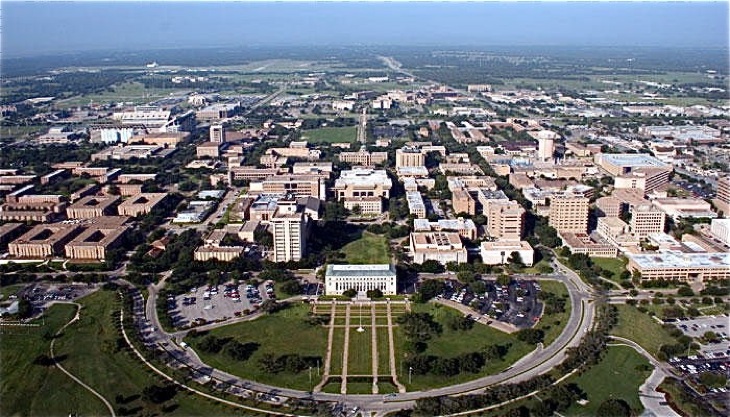 Cadets in Company E-2.  He knows more about the history of Aggieland and Aggies than I ever will.  He still shares with the cadets of today the importance of staying strong as Christians, Americans, Texans and Aggies. Our daughter, Cristy '98, was active as a leader in many worthy student service organizations including Parents' Weekend Committee, Fish Aides, the Bush Presidential Library and Museum, and her Chi-Omega sorority. Even to this very day, she still yells so hard and loud at Aggie games that she can hardly speak for a couple of days. (For which her kids and husband are thankful—just kidding.)  If you are an Aggie Coach and you don't wear Maroon—she will get all over you and make you wish you had. (Hey, I'm jus' say'n—a word to the wise is sufficient.)  For over a decade now, she has been married to Matt '97, a great Aggie who has become one of the top surgeons in Texas and a great husband and father. They have provided us with our three grandchildren, twin girls and a boy. They share the same commitment and devotion to the principles of love, caring, giving, serving, sharing, going-the-extra-mile, being loyal and dependable as do their parents.  They already are Aggies at heart.  We are so thankful that Cristy and Matt are leading their children down the "narrow path."  WHOOP!!!
Cheryl and I left our hometown of New Boston and moved to Bryan/College Station in 2001.  Cheryl works on campus in the newly renovated Memorial Student Center and is an Aggie Mom and encourager and mentor to many students and visitors to Texas A&M.  She was selected by Aggie students to be a Namesake for Fish Camp in 2004 which is one of the most treasured honors that students bestow on another person.  She is also an advisor for a girls' Christian organization, Philadelphia Sisters.  I am so proud of her for the life that she lives. Though she was unable to attend Texas A&M as a student, she is an Aggie through and through.  We could only hope that all students at A&M were as active and devoted to the spirit and traditions of Aggieland as she.  I am blessed to have had her as my wife for over four decades. Let's just face it, Aggie men are blessed with great wives. I hope Aggie women feel the same about their husbands.

Since the initial writing of I Bleed Maroon, I was honored with being selected as the 1992 On Campus Aggie Muster Speaker. As a result, I have spoken at Aggie Musters every year since then which has given me the privilege of meeting many wonderful Aggies and their families throughout the nation.  The 1992 Muster celebrated the 50th anniversary of the most celebrated Aggie Muster of all time, the Corregidor Muster, which put the knowledge of Aggie Muster on a national level. For it was in the early months of WWII on this small Pacific Ocean Island that U.S. troops had relentlessly been bombarded every second of every day, 24 hours a day every day by the Japanese military forces for weeks and weeks. On that 21st day of April, 1942, in the midst of heavy attack, those Aggies who remained met in fox-holes, behind barriers, in caves and wherever two of them could muster, and had a "Roll Call" for their fellow Aggies who had fallen in battle. A few days later, the island fell into the hands of the Japanese forces and all American soldiers were taken prisoner.  They were then marched and transported to their eventual prison and slave labor camps.  Many would not even survive the forced march.

One of the Aggies captured was Urban C. Hopmann, Class of 1939.  Urban Hopmann's family had come to America from Germany years before in order to be FREE. They could not speak English at the time.  Urban Hopmann wanted to be a farmer and help feed the world. So, he came to Texas A&M, the greatest agricultural school anywhere. He was among a group of fish who planted the live oak trees that line both sides of the main entrance to the campus that lead to the Administration Building.  Mr.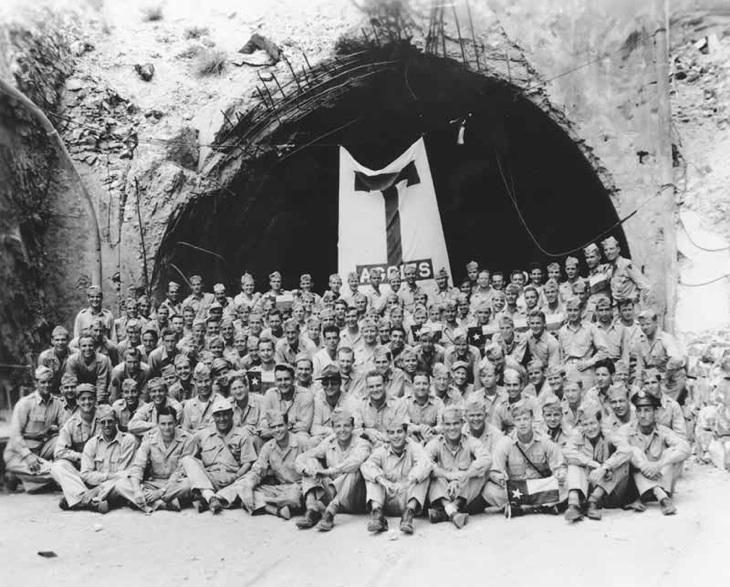 Hopmann graduated and was serving in the Army when WWII began.  He was serving on Corregidor when the island was overtaken by the Japanese.  Mr. Hopmann was captured but took a risk and escaped. He was later recaptured. He, his fellow Aggies and thousands of other American GI's were placed in Japanese "Hell Ships" in which they were packed in so tightly that they had to stand for the entire journey face-to-face with other captured American young men.  Even when fellow prisoners died, they were unable to fall to the ground due to the men being packed in so tightly.  The remaining living American soldiers would have to continue the rest of the journey surrounded by these fallen comrades pressed against them. After arriving in mainland Japan, Mr. Hopmann spent three and a half  years as a prisoner of war. His nourishment was water and rice and sometimes a piece of bread for dessert. He became mal-nourished which eventually lead to his becoming legally blind. His only bed for three and one half  years was a dirt floor.
The Japanese were in desperate need of gold to fund their war effort.  They would take any gold jewelry and even knock out the teeth of their prisoners who had gold fillings. Every day Mr. Hopmann would hide his gold Aggie ring in a secret pocket in his prison uniform.  Every night for three and one half years, Mr. Hopmann would dig a hole at the foot of his dirt floor bed and place his Aggie ring in it and cover it up with dirt for fear that he would die or be killed by the Japanese guards.  His testimony was, "They might get my watch, but they are not going to get my Aggie ring!" After Japan surrendered, Mr. Hopmann and his fellow prisoners were rescued from their captors by American troops.

He returned to America and became a successful farmer and mayor of his town, never complaining or even talking much about his ordeal during the War. Many of his family members had never heard his story until it was revealed at Aggie Muster in 1992, fifty years after his capture. He was the honored guest and only living Aggie survivor of Corregidor who was present in Reed Arena that Muster Day.  All of us who were in attendance that day were honored to be in the presence of a true Aggie hero. We thank you Mr. Hopmann.

My family became trusted friends with Urban C. Hopmann and his family.  We visited them often during his last years.   Mr. Hopmann spoke freely with us about his days as a prisoner of war.  Mr. Hopmann told us the reason for his survival during his POW days.  He credited His Lord and Savior Jesus Christ as his mainstay and was also emboldened by what he had learned during his days at Texas A&M in the Cadet Corps.  Just a few short years after our first encounter with Mr. Hopmann, my family had the privilege of attending and I had the privilege of speaking at his funeral and relaying the heroic life to all present of this true American and great Texas Aggie.  Praise the Lord for Aggies such as Urban Hopmann'39—a real man, a real American, a real Texas Aggie.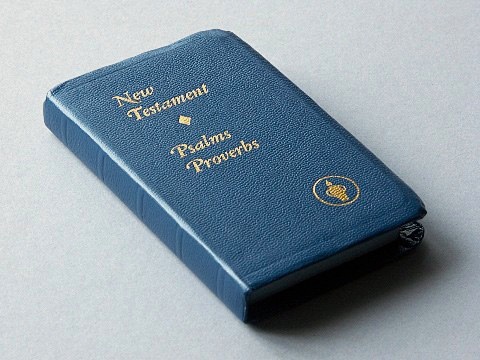 There are thousands of other Aggies that deserve recognition, and my son and I are working on another book which will do just that.  But, one of those that I want to shed light on in this revision is Travis Small '63.  He is another example of Aggies who have quietly but greatly contributed to the original purpose of Texas A&M and made it the unique and special place that it is.  Travis is totally selfless and always looking for ways to uplift others rather than uplift himself. With total support of his wife Pat, Travis has been an active Gideon for decades distributing the Word of God throughout the world.  Each year, he and fellow Gideons' freely hand out pocket-sized
New Testaments
to around 10,000 Aggie students on the campus of Texas A&M.
In addition, he, without praise or plaque, was the main initiator and developer with me for both the Shelby Metcalf Plaza at Reed Arena and more recently for the Flag Display on the exterior of the south side of the MSC. It was with much effort and work that the nine flags (the U.S. Flag, the Texas State Flag, the Texas A&M Flag and the flags of the U.S. Army, U.S. Navy, U.S Marines, U.S. Air Force, U.S. Coast Guard and the U.S. Merchant Marine) were approved for flying over the hallowed grounds of the Memorial Student Center.  What better place could there be to display the flags than over the MSC which honors all the many Aggies who have given the ultimate sacrifice in the defense of freedom in all wars since 1876? Thank you Travis and Pat for your dedication to God, America, Texas A&M and Aggie Baseball!!

Yes, we Aggies do bleed maroon and we "have a spirit that can ne'er be told."  Yet, as the years rapidly pass, I realize more and more that rather than Texas A&M, our top focus and priority should be on our devotion to our Heavenly Father and His Son.  To be truthful, we must admit that all of the great attributes and traditions of Texas A&M and Texas Aggies are ultimately a result of the influence of God Himself upon our school, traditions and spirit in much the same way as He influenced America and her dream of a government "of the people, by the people and for the people." 

enough