Grandkids---a Well-Disguised Blessing

My son Kelly and his wife Carole went on a grown-ups-only get away with another couple for the Labor Day weekend, so we kept their two-year old son Ollie and their dog Wahoo. Whenever you transfer a
young child to another person's home, a vehicle slightly smaller than a Mayflower moving van is required. When they arrived on Friday morning, it took approximately one week to bring Ollie's necessary accessories inside. I think the Royal family of England travels lighter. There were the usual number of stuffed animal sleeping companions (8) plus a variety of toys, balls, clothes, shoes, food, special blankets, etc.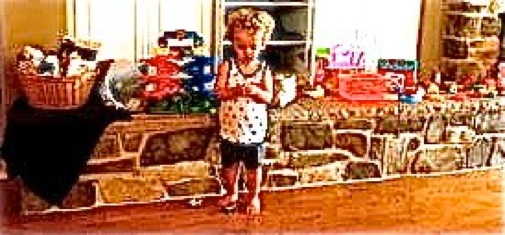 Ollie is quite a talker, but unfortunately we only understand about 25% of what he says. Our granddaughter Mae (5) spent the first night with us and we used her as an interpreter. However, Mae talks very softly, and due to Senior hearing challenges, we asked her to repeat everything about three times. The two of them had a wonderful time playing together and strategically leaving building blocks, Legos, and small little characters on the floor that have an uncanny way of penetrating your feet each time that you step on one. I considered myself lucky when I would step on something that squeaked because it was normally made of rubber.

On Saturday morning Patti had an appointment and I was left to watch Ollie and Mae alone. This was a situation that made me a little uncomfortable, so I went with the obvious solution---television. Ollie likes a show called Super Wings which is on pay TV. In order to get to that service on our television, three remote controls and a password are required. Since I have about forty-five different passwords, the one that was needed didn't pop into my mind. I learned long ago to write everything down, but the problem was remembering where I put the book with all the information. Kids don't understand why there should be a delay in watching a show, so this presented a very unsettling situation for all of us. Luckily the password information was located after about ten minutes, which in kid time is about two years.

Whenever Ollie needs attention, he normally repeats his request about fifteen times consecutively until he locates you and you stop whatever you are doing to listen. Usually it is something of significant importance like finding a missing character from the Jake and Neverland Pirates set or the need for another fruit snack. He has memorized where every food item that he likes in our kitchen pantry is, and he makes sure that he doesn't get shorted on his daily requirement of between meal snacks.

One of the items that he brought with him was a small orange ball that bounces very high. He couldn't find his "bouncy ball" as he calls it, so a neighborhood search party was organized to allow everyone within earshot of him to get some sleep that night. Well, that's a slight exaggeration, but Patti and I devoted about half an hour trying to find it while he followed us from room to room saying, "Where's bouncy ball?" Among our multiple cabinets with toys, is a little playhouse with openings in the top for the letters A, B, C, and D to fit through. I have no idea why Patti decided to look inside the playhouse, but that's where it was. I would have probably looked until Thanksgiving before checking there, but women seem to have this knack for finding things that men never can.

Our daughter Jamie and her kids picked Ollie up Sunday afternoon so that Patti and I could attend an annual neighborhood Labor Day party. He had been with them for a couple of hours, when out of nowhere, he said, "I want to go back to Ganma's house."  As long as Patti is around, I think we will always have numerous grandkid visits, and that's one of our favorite parts of life. We are very fortunate to have all four of our grandkids near us because they create an energy that allows us to sleep well for a week after they leave. 

enough