It's Football Season and Fall
Can't Be Far Behind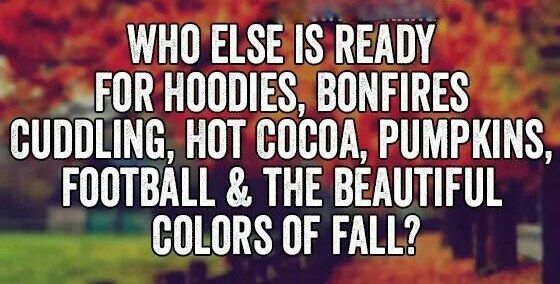 I feel as though  I'm being rewarded for being a good boy…and staying alive long enough...to see another football season.
Today, September 7, is the first day of football fully starting.  Last weekend the college teams mainly played pick up games with the Little Sisters of the Poor.  This week it's put-up-or-shut-up.

I had a really bad day yesterday---health wise, but I awoke this morning feeling comparatively frisky.  Looking out the window, I know it's still hot out there, but the air conditioning is cranked way up, and it feels a lot like November---as long as I don't open a door.

Fall is my favorite season; I think it's the favorite for most folks who live in Texas.  Schools across Texas have started a new year with new hopes for their students.  Heck, our local team won its football game last evening.  Keep hope alive.

Fall also makes me reminisce about old times which for me really are old times.  Fall memories are the best.  New comfy sweaters, new dreams, new hope for my favorite football teams.  I went to Pineville High School, Pineville, Louisiana, in the late 50's and graduated in 1960.  Frankly, it was a little slice of Heaven being there at that time---good teachers, good friends, good times.

In '61, a year after I graduated, the Pineville Rebels won the state championship.  Holy moly, what a team!

But I digress.

Today there are a couple of interesting games on national TV in which I have some interest: A&M at Clemson and LSU at Texas University.

I got degrees from both LSU (BA) and A&M (MS), and of course attended games at both schools:  I tolerate A&M, but I certainly don't hate them.  They're just not LSU.  Hell, the last time I visited the LSU campus, they had a beer dispenser in the student center.  Enough said.

My wife, Linda, who is a real Aggie graduating with a BS from there years ago, told me yesterday that A&M was a 17 point underdog to Clemson.  Bull droppings!  It wouldn't surprise me at all if A&M handed Clemson its hat.

I don't know the point spread of the Texas-LSU game, but Texas is owed a butt whipping by LSU.  Those of us with long memories recall that Notre Dame robbed LSU of a Cotton Bowl berth many, many years ago.  LSU was all set to play Texas in the bowl when Notre Dame suddenly decided it would change its policy against playing in bowls.  The bowl committee with the approval of Texas robbed LSU and rewarded  Texas with a win over Notre Dame.  (I had to look it up: it was the 1970  Cotton Bowl.)  Humm, 49 years ago…a really long memory.

It's time for pay back.  Geaux Tigers.

I don't watch many college games, but today is a feast for me.  I've been a good boy and hope to be rewarded.  If not, oh well, there's still my fantasy team.

I still watch a little NFL football…but mainly because of my fantasy team.  However, I am a Saints fan.  They play Houston Monday night (It ain't been the same since Bum left Houston---yeah, I know---different team) and as an added bonus, I have Brees (quarterback) and Kamara (running back) on my team.  Who Dat!

As I said, today is the 7th.  This essay won't be published until the 14th, so I'll have plenty of time to bring you up to date on the results of the games I've mentioned.

In the meantime, enjoy the thought of cooler days ahead.  It won't be long.

enough

Update:

A&M 10---Clemson 24

Not a bad score against the number one ranked team, but it was obvious within a few minutes that A&M had zero chance of winning this game.

LSU 45---Texas 38

Good game.  LSU finally has a quarterback and Texas will win a lot of games.  My friend Shelby, an avid Texas fan, can sleep well tonight in spite of the loss: Texas is back.

Texans 21---Saints 24

One heck of a game.  Saints pull out a come from behind victory, but I noticed that the Texans have a scary offense.

Lou.5.1 47---PrinceCharming'sWife 37

My fantasy game was the game most important to me because it was the only one of which I had some control.  Fifteen games to go.

Of the four teams I was pulling for, three won: not a bad start to the season.