I've Bought My Last Dog

by Gene Miller

I've bought my last dog! 

Pennypuppy lived for twelve years.  She was the sweetest toy poodle you would ever want to meet.  We named her  Pennypuppy (Penny for short) because she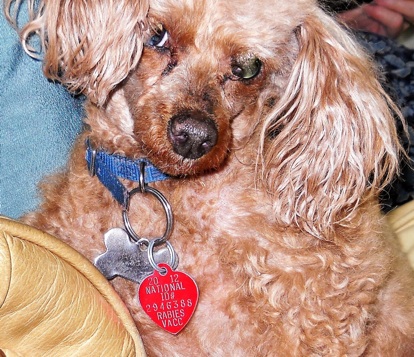 was the color of a penny. She weighed about seven pounds.  Betty said, "Penny is just about the right amount of dog!"  She came from a kennel and had "Papers" and everything.  Penny was a "Trick dog". She could "sit" and "come" and "rollover" and "jump over the stick." She loved the little kids and would play and never bite.  Penny had a squeeky little "arf arf" but was not a barker. Her poop was about the size of my little finger and was no problem to clean up. Penny loved to ride with us in the car and would lay on my lap and not hinder my driving. She loved to sit under the table at breakfast and Betty would say, "I told you I wanted only one scrambled egg ... you made too much!" She would then slip her plate to the floor. Penny loved scrambled eggs! I enjoyed a big bowl of Blue Bell lce Cream in the evening. I always left a little and Penny got to "lick the bowl." 
There was one little problem.....Penny never got completely "potty trained." The concept was alien to her.  She would sneak around the house and pee in a corner where we would not see.  She would poop right by the door.  She had a "special place" behind the couch....another by the dining room table.  We used "special cleaners" and "doggy training sprays" and "puppy pads." We bought puppy training books and watched videos.  We replaced the carpet in the bedroom. We installed hardwood in the family room and entry.  Nothing seemed to work.  And now....Pennypuppy is gone.  She died in my arms several months ago, and ... I've bought my last dog.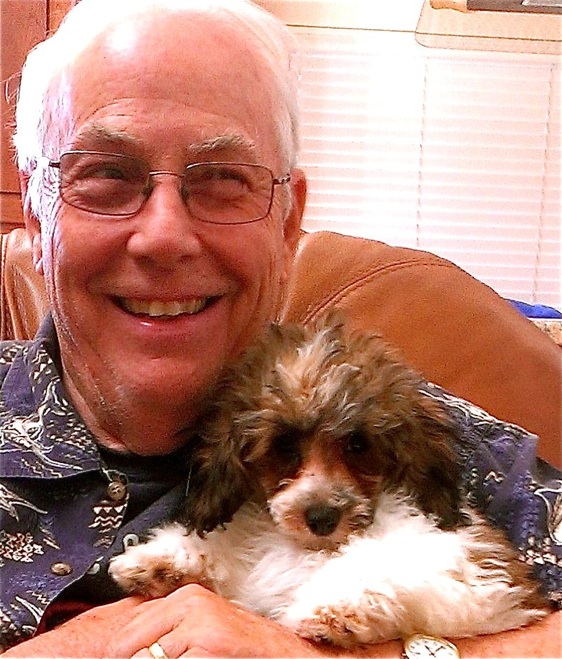 Meet Mr. Patches. 

enough