Late Mention: LSU Wins National Championship

Well, there you go: LSU won another national championship.

Yeah, I know: my comment comes a little late to be timely, but there it is.

I remember their first: I was sophomore in high school.  "Pepsodent" Paul Dietzel was the coach.  He decided he'd prefer coaching at Army.  Great decision…not.

About fifty years later, LSU won a second championship.  They seemed to enjoy it and won it twice more.

I don't live and die by my college team.  However, I know folks who do.  They're a sad lot.

As January 13, 2020 (the date of last year's championship game) approached, I found that I was having stirrings…or indigestion or something was happening.  At last I realized that I was having a reaction to the 2012 (21-0) whoopin' Alabama put on LSU in the national championship game.  After Les Miles and the Tigers had beaten the Tide in the regular season 6-3, they had to play them again for the championship…great game plan, Les.  The most bizarre game I've ever watched.

Time passes.  Troy beats LSU.  Holy crap!  Sad wails could be heard throughout Louisiana, "Troy?  Troy?"

Time passes.  In 2019-20 LSU wins 15 straight games and the National Championship.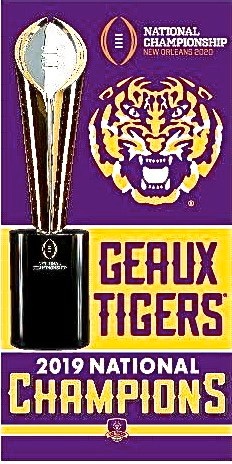 If I seem a little low-keyed about my alma mater's "victory," see my essay "
LSU and Other Things I Don't Lose Sleep Over
."
I'm pleased they won the championship again, but it changes nothing in my life.

Geaux Tigers!

enough