Life with VD    

by

If ignorance is bliss, then my childhood was heaven. Even as a "sophisticated" senior at Andrews High School, my naiveté knew no bounds. As an honor student and first chair trombone in the band, I figured I was pretty well set for life. While I expected to discover new and exciting things about the wide world beyond west Texas, I had no idea how small the sliver of my experience thus far had been. Back then most people were white, different sexual orientations did not exist, you were lucky to get three channels on your TV, and except for going to church on Sundays, nothing was more important than high school football. Today I am keenly aware of the many people who have influenced my earthly journey. How different my life would have been if not for certain people!

In the past 64 years I have moved to a new town approximately 15 times. Consequently, I can only name one person in my life today, other than family, which I have known for nearly five decades. His name is John Tilly.  We met as freshmen at AHS when I moved there in 1965 (move #6). John was a fellow honor student so we had a lot of the same classes and even double-dated in our later HS years. Fortunately for me, John decided that he and I would make great college roommates, and by our junior year we had a plan.

We had both scored high on the ASVAB (Armed Services Vocational Aptitude Battery) test so it was only logical that we both become engineers. [Note: When I Googled ASVAB to see what the letters actually stood for, I discovered that it was introduced in 1968. Since we graduated in '69, we may have been part of the first administration of the test. Did not know that!] Next decision: where to attend college? I, of course, knew next to nothing about colleges. My only college experience was the Tech-Arkansas football game that another friend's family took me to in Lubbock. It was quite an experience for me.  We rode in their fancy new Oldsmobile (that cost over $6000!!!), and ate at a nice restaurant.  The only thing I knew to order was fried chicken and I was too embarrassed to eat with my fingers. (I nearly starved to death picking at that carcass with my fork.) The best part of the ballgame was, of course, the bands. They were huge and created a wall of sound like I had never heard.  College band looked way cool. (I'm guessing I called it "groovy" back then?)

John said the three best engineering schools in Texas were A&M, Rice, and UT.  John didn't want to be an Aggie (some of my best friends are Aggies now), the rigors of getting into prestigious Rice were daunting, so UT won by default. I knew UT was a big school, so I assumed that they had a football team and a band.  I would probably want to be in that band.

Fall 1968 was the beginning of our senior year.  John and I visited Austin that summer and selected our dormitory for the next year. Someone told us that they had high hopes for the UT football team that year, but after they went 0-1-1 in their first two games, we forgot about them and concentrated on our own Andrews Mustangs. Then on New Years Day 1969 I was watching TV and stumbled onto a game called the Cotton Bowl and there was the UT band! Actually, there were two UT bands, because Texas was playing Tennessee, but I was more interested in the burnt orange group. I definitely wanted to be a part of that. Texas won the game, consecutive win #9 in what would eventually become a school-record 30 game win streak.

In the spring of '69 I was in Austin for the State Solo & Ensemble competition and auditioned for The Longhorn Band with an assistant band director. I was accepted, an impressive accomplishment except for the fact that back then they pretty much took anyone who tried out.  That soon changed. As the band's numbers began to exceed 400, the selection process became much more competitive. My timing was good.

At the UT freshman orientation week, we were told that over half of us would change majors at least once during our time at UT.  I was astounded by that statistic, consoled only by the fact that at least I would not be one of them! The other interesting memory from that week was the two girls from Houston who met for the first time at orientation then discovered that they had just graduated from the same high school! This small town boy did not know that was possible.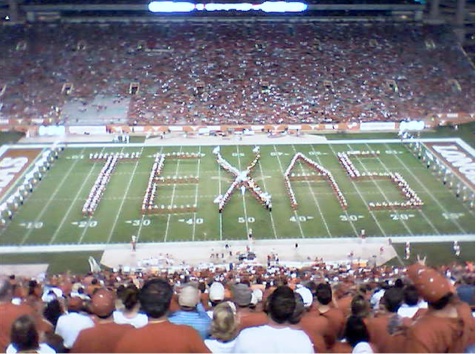 August 1969. That's when I first met him. Vincent R. DiNino, Director of The Longhorn Band, A.K.A. The Showband of the Southwest! He was not a tall man, and yet he was somehow bigger than life. He had studied our profiles (with pictures attached) and knew virtually everyone's name on the first day – that's over 100 freshmen band members. He had an incredible knack for remembering names, even names of former band members from years past. He had a fire and a passion about what he did that was contagious. Some people call this charisma.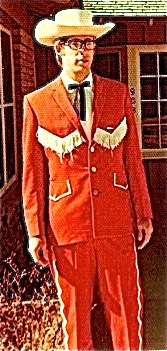 DiNino came to UT from Minnesota in 1955 as the first faculty status Longhorn Band director.  He built the band from a 70-member all male musical ensemble into a 300+ member show band with swagger and pride. When women were first added to the band in 1956 they did not march. However, after a flu epidemic the week before an OU game thinned the ranks of the LHB, the ladies came to the rescue and have marched ever since. From the marching flags to the fringed uniforms to the beaver Stetson hats, DiNino infused the Longhorn Band experience with personality and pride.

I walked into this environment oblivious to the history and tradition. I learned quickly and was soon a staunch defender of this tradition. I played my trombone next to people who grew up in the Austin area dreaming of the day when they would take their places in the ranks of burnt orange bandsmen. In a university of 30,000+ students, a tight-knit group of 300 band members became my family.  The Longhorn Band was a fine musical organization, but most of the band members were not music majors. It did not matter if one was a business, education, or humanities major, or even an engineer or pre-med student. It was very common to find others from the "band family" all over campus. I know at least one bandsman who was attending UT Law School. We would look for each other in our classes and share books, notes, etc.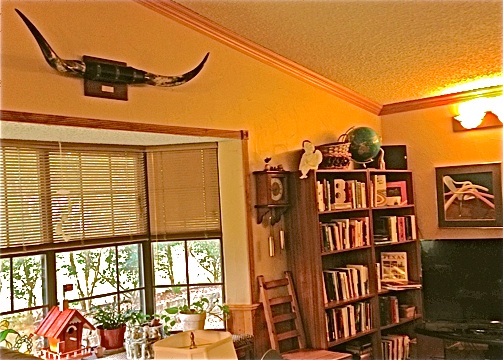 My years in Longhorn Band were among the greatest in my life. In my third year I realized that I was majoring more in Longhorn Band than electrical engineering, so I changed my major to Mus. Ed. This enabled me to cram a traditional four-year collegiate experience into six long years. I was in Longhorn Band for five of those six years. I devoted year number six to finishing school. One advantage of staying in band an extra year was the fifth-year lettering award – a set of Longhorns. I was far from the only person to exceed four years in LHB. In fact, by the time my tenure on campus was complete, I viewed four-year graduates as the anomalies. An occasional "professional student" would test the limits of this opportunity.  I think Chuck set the record at 12 years in LHB.

Being a part of the Longhorn Band experience was amazing. A special bond forms between the members of any group or team that has to work together to achieve a common goal, but each group experience is unique. This country boy from the anthills of West Texas stumbled into, and became part of, an historic college football season with more than enough memories to last a lifetime.

1969 was the 100th anniversary of organized college football.  Ohio State was the defending National Champs and expected to repeat, but when upset by bitter rival Michigan, UT took over #1. Darrell Royal's wishbone offense (largely developed by Emory Bellard) was rolling over the opposition at a record pace.  As I recall, at one point our first and second teams were the #1 & #2 offensive units in the country. The last game of the regular season pitted #1 UT vs. #2 Arkansas at Fayetteville, Ark. UT's come-from-behind 15-14 win still ranks as one of the greatest games of all time. I was there. One of my treasured possessions is a copy of Terry Frei's book, Horns, Hogs, & Nixon Coming. It gives a detailed account of this epic game. John gave me my copy – autographed by the late James Street, quarterback of the '68 & '69 teams. Of our 300+ band, only about 200 got to travel to away games.  The travel band was heavy on brass because we could make more noise, so I was fortunate to be a trombone player. The only game I missed that year was at UCLA, and finances prevented the band from making the trip to California.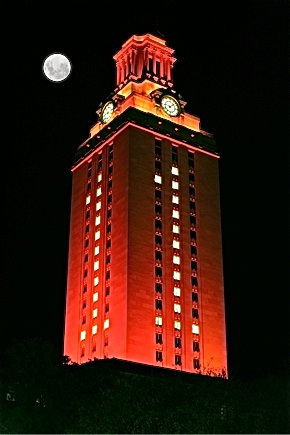 The win at Arkansas earned the Longhorns another trip to the Cotton Bowl as undefeated champions of the Southwest Conference where their surprise opponent was none other than legendary Notre Dame, who had a history of shunning all bowl games.  This was Notre Dame's first bowl appearance since 1924. In yet another exciting come-from-behind win, Texas finished the season undefeated and the unanimous choice for National Champions. Not a bad introduction to college football!

Besides the rehearsals, the bus trips, and the parties, there were also performances for concerts, basketball games, baseball games, and other special events. The memories from those years are far too many to recount here, but a few of the highlights were: playing for the arrival of astronaut Neil Armstrong at the Austin airport where I also met the governor of Texas, Preston Smith; playing at the LBJ Library for LBJ's memorial service; a week-long trip to perform in Peru, where kids on the street of Lima asked me for my autograph; performing at halftime of Super Bowl VIII in Houston between Miami and Minnesota; and, of course, the many people I got to know and work with.  In fact, one of those in particular stands out in my memory. In 1970 I met Beverly Green, a freshman saxophone player from Austin who was the daughter of a Baptist minister.  Beverly had made a last minute switch from enrolling in her parents' alma mater, Baylor, to attend UT. She only tried out for LHB because of the insistence of her high school best friend, Brenda Dees. As fellow PK's (preacher's kids) Beverly and I had an instant connection. In an on-again, off-again relationship over the next few years, we finally got married in 1976 and it's been on-again ever since! Thank you, Longhorn Band! Thank you, VD. (By the way, we never actually called him that, at least, not to his face.)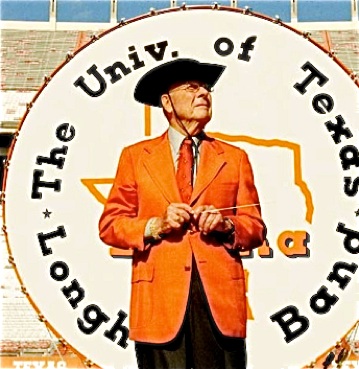 Directly or indirectly, everything we enjoyed about Longhorn Band we owed to Vincent DiNino.  Mr. D was the one who persevered through the tough times. He surrounded himself with quality people and fought for better facilities. My freshman band was the first group to rehearse in the new, state-of-the-art band hall.  In the summer of '69 the LHB had moved out of the converted barracks building (outgrown years before) that served as the band's "temporary" quarters for 20 years.

My life with VD over those five years helped shape the person I am today. I sometimes wonder how different my life would have been had John Tilly not gotten me to UT where I became part of Mr. DiNino's amazing band experience. Thanks to Brenda Dees I met my future wife there.

Vincent R. DiNino retired in 1985 but remained active in UT affairs for the rest of his long life. He died this September (2014) at the age of 95.  Just last year he was still directing the Longhorn Band in The Eyes of Texas at a football game. The man had an incredible memory, super human energy, and a larger-than-life personality that inspired the creation of The Showband of the Southwest over half a century ago. Bev and I are just two of the many lives he touched. He will be missed, but his influence will long out-live him.

It's been a good life. This engineering student ended up in education for 32 years teaching band, math, and computers. I tried to provide my students with some of the positive experiences I enjoyed as a student. John graduated with a degree in journalism in four years (one of those anomalies) and went on to become a lawyer in Dallas. Beverly ended up with degrees from UT, A&M, and SMU, or as we like to say, almost half of the old Southwest Conference! To complete the last year of her seminary studies at SMU, Beverly lived with John and his wife Wanda in Irving during the week, making the three-hour journey home each weekend. I've learned a lot over the years, and I'm grateful to all those who have helped direct my life. I even know how to eat fried chicken with a fork now, although I seldom choose to.

enough