My Example

by

Denny is my older brother, fours years older to be exact.  I sometimes call him my big brother, but he doesn't seem to like that title since he is a little more-portly than me.  Denny grew up as most first-born children, having to look after his younger siblings at times when mother and dad wanted time to themselves.  Denny had his own room, his own clothes, his own way of dealing with his younger brothers when he got fed up with them.  When he became a teenager, independence overwhelmed him, and he lost that desire to be with his brothers.  After all, it wasn't cool to be seen around grade school kids.  Athletics, girls and cars became a focal point in his life.  Though he didn't want to have much to do with my younger brother and me, I never gave up on my older brother.  I idolized Denny and his friends: they were like Gods to me.

In 1961, Denny came home from his Jr. High athletic banquet surprised that he had won outstanding student honors.  His name was engraved on a plaque that was placed on the wall of Lincoln Jr. High School.  Three years later I attended the same school and would look up at his name every time I passed that plaque.  It became a symbol of excellence to me, something that I took great pride in looking at.  Many of my friends had siblings that were Denny's age, but none of them had achieved the notoriety that my brother had achieved.  During the winters to come, my dad and mom would load my younger brother and me into the car and travel to a nearby town to see Denny play basketball and football.  I loved to watch him and his teammates play.  As Denny became more engrossed in athletics and high school, so did I.

In the Fall of 1964, Denny's senior year, he came home from his high school football practice and told our dad that he quit the football team.  For the first time, I saw failure in my brother's face, not the kind of failure that he had when his team had lost a game, but a deep emotional failure that pulled at his insides.  My dad sent my younger brother and me to our room and had a long talk with Denny.  That next week, Denny rejoined the team and later became one of the top running backs in the State of Illinois.  I don't know what my dad and Denny had talked about that night, but I know what a profound affect my brother's accomplishments and drive began to have on me.  Being a kid from a small Midwest town, I learned that notoriety and prestige came from being a good kid and student-athlete.  Today it seems different: the power to persuade rests with those who have personality, money or access to drugs and alcohol.

Although Denny didn't pay much attention to my younger brother and me while growing up, the example that he set was ingrained in us and still remains.  You see, every part of a family member's life becomes a little part of yourself, and to this day I'll always be thankful to my brother, Denny, for creating the "example" that governed the way that I chose to live my life.  As I grew older, I not only wanted to accomplish what my brother had but wanted to be just like him.

In 1965, Denny came home from his senior high school banquet and was visibly discouraged over not winning the "Most Outstanding Athlete" award in his senior year.  As an eighth grader, I again felt sorrow for my brother.  I knew how much he had wanted to win that award.  But he had sustained a broken hand during his senior year basketball season and sat on the bench the majority of the games that winter.  That put him out of the running for the award.  Denny's misfortune in his senior year gave me the incentive to want to win that award for the both of us.  In 1969, when I was a senior at our high school, I was handed the Frank F. Bleyer Outstanding Athlete Award during our senior banquet.

The day my brother left for the army, my dad and I cried.  It was the first time I felt my heart really being broken.  We weren't sure whether Denny would be shipped off to a foreign land, sent to the front lines of Viet Nam, or delivered home to us in a plastic bag.  For the next month, I missed my brother Denny, terribly.  I realize now, after all these years how much he meant to me as a brother and what a positive influence he had on me.

A lot has happened to me since the 60's, but through all of my successes and failures, I've been up more times than down, and I must admit that I owe a lot of it to Denny and my younger brother Tom.

Fast forward some twenty years---I had a second chance at being a husband and father, I was remarried into a family that had three daughters.  At the time, my eldest daughter, Wendi, was in Jr. High at Corpus Christi, Texas.  In watching her grow through adolescence and into adulthood, I see a lot of similarities between her and Denny.  Like my brother, she had accomplished so much in the way of academics and athletics.  As most older siblings do, she paid less attention to her younger sisters than we would have liked, but that didn't displease us; we understood because my wife and I both had younger siblings.  The thing that Wendi had given her sisters, were more meaningful than any amount of time or attention: it was "influence."   That example would prove to serve as a guideline for her sisters to govern their lives by as they grew into adulthood.

Parents can't buy that!  Parents can't teach that!  Parents can't show their children how to get a hold of it!  It is a quality that is mostly instinctive.  I would like to say that I had a part in Wendi's growth and high school success, but the "influence" over her sisters was pretty dominate before I came into her life.  Wendi displayed most of the hard work and accomplished most things on her own.  She had every right to grow up confused and distraught over her family situation, but she had a wonderful mother that cared about her and helped her through the tough times.  Wendi did a lot for herself but had also done a lot for her sisters.  Not in the way of time, or even nurturing, but in the "example" that will live in hearts of her sisters, Allie and Kylie.  What Denny had done for my younger brother and me, she had done for her sisters.  As they grow, Allie, Kylie, and maybe even my son, Ben, will compare their efforts to hers and strive to be like Wendi.  For that, I will always be grateful.

When Denny ended his two-year stint in the army, he returned home to a house that had no father.  My mother was grateful that Denny was there to continue being an example to his younger brothers just as my wife and I are thankful that Wendi will continue being an example to her sisters and brothers.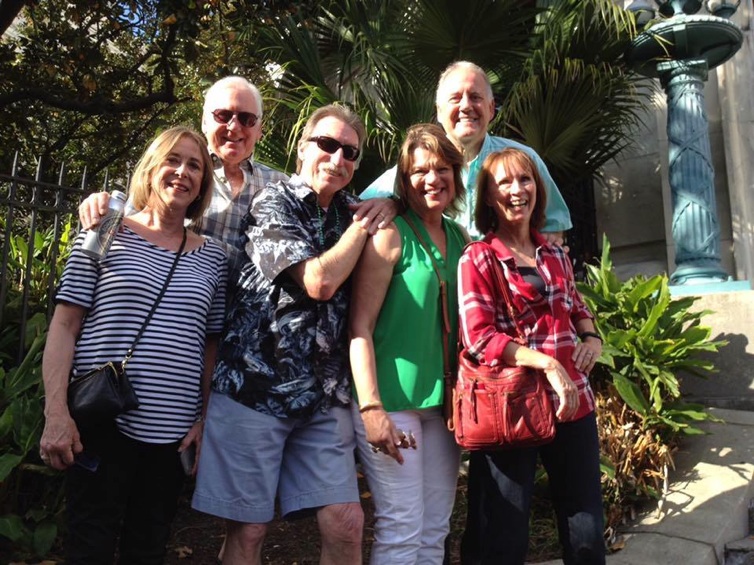 enough