My Mentor and Friend

A Letter to Jean Pollock

by

"I'm not very good at going to funerals these days, and have had more difficulty after the death of my brother, Tommy, last year. Vern will always be with you in spirit and the Pankey's are with him today in prayer. When you get time, and feel you have healed some, I'd like you to read and have this story that I wrote on my life with Coach. I just hope that you, Danny and the rest of the Pollock family will forgive me for not being able to be with you in this trying time. Someday, when I am able to get back to Carbondale, I'd like to visit with you in private and tell you how sorry I am for your loss. I pray that you can remember the man that was and will eventually find peace in knowing that you were able to be with Vern in the past, even if it wasn't enough time to do so…… Bobby"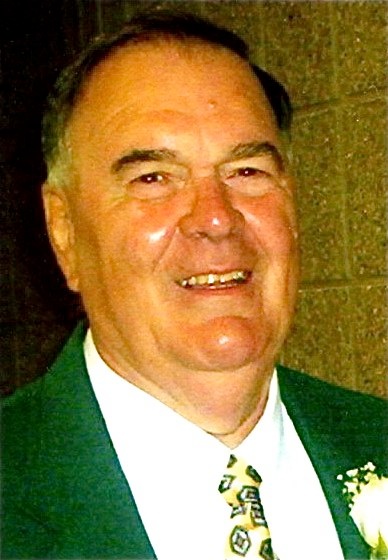 I had just gotten through viewing my brother at the funeral home after Tommy had died of brain cancer. When I walked to the front of the funeral home, Vern Pollock, my high school football coach, was the first one to grab onto me. Vern approached me, we cried, and he put his arms around me for the longest time. Coach Pollock then backed off, said that he was sorry for the loss of my brother, then told me that I was gaining too much weight! In spite of all my grief, after 48 years of having Pollock as a football coach, Pollock still had that canny ability of making me realize I still had room for improvement! Thirty years prior to that, he saw me when I was home visiting my family in Illinois. I was carrying a full beard. As athletes in high school, Pollock had a strict team rule that nobody should look any different than anyone else, so facial hair was not permitted or tolerated. It was Coach's idea that if you didn't look like a team, with similar goals and appearance, then you simply would not be a team capable of excelling. So Coach looked at me as a 32 year old adult, raised his eyebrows and said "Bobby, you look like one of those hippies. Get that crap shaved of your face!" We made a joke out of it, but sure thing, once back at my family house, I went to the bathroom, looked into the mirror and soon, without even thinking about it, half my beard was already gone. Coach just had that ability to make us do things that we never would have done on our own.
Vern Pollock was one of the first to be at my home after my dad passed away, my Junior year in High School. Dad's loss took a great toll on me, as I realized that I'd have to endure life without my father. I quickly learned to keep my grief and sense of loss deep within me for many years. However, Coach Pollock was with me every step of the way, taking me under his wing and taking personal responsibility for me, keeping me out of trouble and keeping me focused on my skills in sport. In my senior year in High School, I realized that Coach had not only become my mentor, but also a second father figure to me. During my senior year, it was Vern Pollock who kept the University recruiters off my back as I was finishing my high school career in sports. He feared that they would interfere with my school work and ability to focus on other sports. It was Coach that made sure I was home at a decent time at night; Vern actually bought a home across the street from our home, and made sure I knew those times when I was out too late! When I was at college Vern Pollock would frequently call me just to check in with my progress at Mizzou, and it was Coach Pollock who notified me that there was a job opening for a Football Coach at our High School when I graduated from Mizzou, and asked me if I wanted to interview for the job. Vern Pollock was my mentor throughout my life. I never forgot his way of helping people even though his way of helping sometimes made you feel guilty, ashamed, elated, proud and happy all at the same time. He was old school, Navy, came from the college of hard knocks and born into a family who, as Coach would say, "didn't have Jack-Squat!" One of Vern's famous lines was that in Missouri his mother would have to put coal oil around his ankles in the summer to keep the Cut Worms from biting him. Without my mentor and second father, I am convinced that things would have been altogether different in my life, and without being able to play under Coach Pollock, I'm convinced that I may have not excelled in academics and sports. As a result of Pollock's mentoring, I certainly would not have earned an athletic scholarship to college and played at the University of Missouri.

In the summers, when I was at Mizzou, I worked at camp for boys in Branson, Missouri. Coach Pollock advised me that if I had the chance to work at camp, I would hone my skills in communication and learn to lead kids and coach. Camp counseling would lead me to much greater opportunities than working at some burger place or supermarket in the summers. I was a utility guy at camp; I watched the swimming pool as a lifeguard and played games with the summer camp kids when they weren't in the pool. One of the games that the kids and I loved to play on dry land was dominos. One day we took all the hundreds of dominos and stood them on end, next to each other, and when they were all lined up in intricate designs, I showed the kids how one little action could cause a reaction, explaining Newton's Laws and applying it to the "domino effect."

Wikipedia defines the Domino Effect as "the reaction or cumulative effect produced when one event sets off a chain of similar events." The domino effect is best known as a mechanical effect of energy or force. Obviously the kids loved the final result in lining the dominos up, and they actually enjoyed the painstaking time it took to line each domino up just right, so it would have an impact on the others in line as they toppled over. I loved the camp scene back in those days, and actually witnessed great strides in my own desire to mentor the kids, watching them grow and mature from the lessons I learned through Pollock's philosophies with games, activities and learning my teaching skills at camp.

Soon after my undergraduate years, I coached and taught physical education for a few years at Carbondale High School. I had the privilege of working alongside Coach Pollock, I got married and took a teaching and coaching job at a small college in Grinnell, Iowa. Coach Pollock was leaving Carbondale to move to Metropolis, Illinois and he was encouraging me to make the move, as I signed a contract at Grinnell College. So, I decided to head to Iowa to try to make a living in college coaching and I have to admit that the job in Iowa was the coldest job I've ever had!

My wife and I had a baby boy, Benjamin, while I was coaching in Iowa, and I saw that coaching would be out of the question if I ever wanted to spend some time watching my son grow up. So, I packed up my briefcase, with resumes, and headed off to a Physical Educator's National Conference in Detroit, Michigan, where I hoped to convince some University to hire me to teach and essentially disengage from coaching, while pursuing a Ph.D. I interviewed with every college that was there at the National Convention in Detroit. However, during the interviews, it was apparent that the job-recruiters were disinterested in looking at hiring a faculty member like myself who mainly had "coaching" experience. So on one of my last interviews in Detroit, I was asked to step inside a booth to discuss my resume with some Texas A&M University recruiters. It was late in the day and the interviewers looked exhausted. I knew that this might become a pretty quick meeting when the recruiters asked me about my experiences in research and academia and what kind of work that I was currently doing! As I was giving them the best story of my life, the Professors from Texas A&M were hardly paying attention. After all, these A&M interviewers had probably done the same to over fifty young professionals who had similar goals as I throughout the day. After the interview, they thanked me for dropping by, shook my hand and said their final "Texas Friendly" goodbyes. Trying to wade through being temporarily discouraged, for some odd reason I remembered Coach Pollock had encouraged me to take counseling jobs in the summers when I was attending the University of Mizzou. Coincidently, the owner of the camp, where I worked summers in Branson, Missouri, was Spike White. Mr. White was also the Campus Recreation Director at Texas A&M University! So, I asked the A&M recruiters to give Mr. Spike White my regards when I was about to leave! They both looked surprised and asked me to sit back down and wanted to know what I did in the summers and how I came to know Spike White. My counseling experience had not even been put on my resume! So, I explained to them that I worked as a camp counselor at Branson and never saw the need to place that camp experience on my resume. The interviewers then proceeded to tell me that their Kinesiology Department had just been given the opportunity to run a summer camp, near the Campus, and asked if I was hired, as a faculty member, would I be interested in Directing their Camp in the summers. I would work as a faculty members during the Spring and Fall semesters and work and develop the A&M summer camp from June to August. Of course I said I would, and we parted with the idea that they would contact me once they had a chance to discuss things back at Texas A&M. Weeks went by without hearing a word, and I decided that I would probably have to endure another cold, snow filled winter in Iowa coaching football and track. My son was starting to stand upright, and my wife was beginning to get very restless knowing that she would have to be cooped up inside for another winter.

When the phone rang and I answered it, the voice of Dr. Ponder, the Kinesiology Chair at A&M, was on the line! I almost lost my control. Dr. Ponder asked if I could move down to Texas and take a full-time position as a faculty member in their Health and Kinesiology Department. So my wife and I sold our home and packed up the family and we all moved south. I was so thrilled that one of the first calls I made was to Vern Pollock and told him I'm moving to Texas. I explained my whole interview story at the Convention and explained to Vern that if it hadn't been for him, encouraging me to sign with Dan Devine and the University of Missouri, I would have never gone to Camp Kanakuk in Branson, Missouri and would have never ended up moving to College Station, Texas. For the first time, I was literally seeing how one little act of guidance, one act of advice, or one act of being a mentor could have the possibility of changing people's lives, somewhere down the line, even in an unexpected way!

As time went on, like it always does, I found my work at A&M had become as demanding as coaching ever was. My wife and I drifted apart and it became evident that her discontent with me, my personality and my workaholic attitude would lead to divorce. Unfortunately, my son was in the middle of it all, and when my ex-wife moved to Arizona, my son went with her. Back in those days, there were no laws in Texas that protected fathers from having their ex-spouses move away, so I basically had to make a choice, either quit my job, forfeit my hours already spent in seeking a Doctorate Degree and move to Arizona to be close to my ex-wife, or try my best to visit as much as I could and hope that things would just work out as our son grew. For the second time in my life, my heart broke, and I felt like I was being left out there alone without my family around me.

At the same time, the camp was in full swing and I had 100 kids each summer who were depending on me and my staff to oversee their camp experience. Divorce is always complicated, but during the three years I was A&M's summer camp Director, I began to look at things without remorse and negativity. During all the grief, through all my suffering of having my family break apart, just as it had done in 1967 upon my Dad's passing, I always knew that I could rely on Coach Pollock to cheer me up, give me counseling and mentor me if I needed it. At Camp I was working with kids, from the inner city of Houston, who had seen more trauma in their short existence than I ever had as an adult. I believed that there was a purpose for my existence at camp and took refuge in knowing that I was helping make the lives of these children a little more pleasant and self-fulfilling just by mentoring the kids the way Coach Pollock had done with me so many years ago! When my camp directing days were over I began to reflect back on what life to me was about and sensed that the simple domino games I played with the kids may be an accurate reflection of how everyone's lives are eventually revealed to them, whether they knew it or not. Those days of sitting around with Coach Pollock, discussing options of which college to attend or which jobs to take sat off another reaction eventually in the future. Most of us begin to realize that no matter how we meant to plan our lives, no matter what lifelong goals we plan for ourselves, none of us really can predict what path our actions will take until the eventual outcomes or end-product on each path are revealed.

Years ago, I listened to Ken Robinson speak on the subject of Life, and he explained that we all generally think of moving forward in our lives related to something linear, or in a straight line. After all, our parents raised us to think that if you study hard, make good grades, be humble and kind to others, and keep ourselves on an even keel, we will always move forward. So a "linear state" of going through life is something that most of us are consistently taught from an early age. But as we grow, we begin to see that life has its ups and downs, we get cut from a team, our parents may get a divorce, or we may have a father or mother pass at an early age. We marry the wrong person, we have a child unexpectedly, and we are faced with the tough decision of what we have to do to keep going forward. Life, as Ken Robinson explains that life is not linear, it is "Organic!" As much as we would like to prepare for the inevitable chain of reactions in our lives, we can never predict the outcomes. Unpredictability should lead us to thinking that we have to be able to adapt and go with what is uncertain and react to sorrow, fear and insecurities in a positive way. Essentially, as Coach Pollock had explained to me many times, "making the best of what you have to work with!" If one is not able to make the best out of each chain reaction, out of each domino that falls, life will become a struggle and you may face the possibility of depression or the sense of failure in your life.

The one thing that is certain when I look back on my own life is that there are subtle little gifts that were presented to me from Vern Pollock, when the dominos in my life began to tumble. I just did not see the messages until the chain reactions came to a pause. Like the dominos in lines that the kids set up in Camp, their reaction sometimes continue to go forward even in the face of equilibrium.

As I graduated from high school in Southern Illinois, I realized that if I had not taken the opportunity to attend the University of Missouri, leaving my hometown friends, girlfriend, family and mentor, I would have never had the chance to go to Camp Kanakuk in Branson, Missouri. Years later, if it wasn't for the summer job I had in Branson, Missouri, I would have never had the chance to make an impact on the interviewers from Texas A&M while attending a Conference. Without the connection I had in knowing Spike White, I would have never had the opportunity to take a faculty position offered to me by interviewers at A&M while at a conference in Detroit, Michigan. The chain reaction or "domino effect" that resulted as Vern Pollock's encouragement to go to Mizzou, resulting in the interview I had with A&M in Detroit, had changed my life forever! Taking a faculty job at Texas A&M led me to move to College Station and helped me to become the Professor that I was for 44 years. Being the Director of the camp near A&M allowed me to mentor hundreds of kids and helped make their summers a little more exciting and enjoyable. Subtle little gifts and blessings that are given to us, in the past, can be revealed when one looks at life as being composed of energy that sets you on a path, or as an outcome when the dominos of life begin to tumble in motion. When those dominos fall onto others, making slight turns, colliding against each other, moving uphill and downhill in their chain reactions, until they eventually come to a halt, their outcomes finally reveal themselves.

If I had never been influenced by Coach Pollock, I would not have indirectly attended Texas A&M or would never had my Camp Director's experience or faculty position. I may have never received my Ph.D. and never have been qualified enough to take a Professor's position at Corpus Christi, Texas, where I met the love of my life, married and had the blessing of raising three little girls as I progressed to an Administration position at Texas State University. Indirectly my wife and girls and son Benny were all influenced by an academic lifestyle, and they all finished their college degrees and are all able to look back on their own domino effects and hopefully learn, without even knowing it, that my mentor, Vern Pollock, had indirectly had a reaction on their lives as well.

As I reached my 66th year in age, as a teacher, coach, administrator and a father to four beautiful children and now four beautiful grandchildren, I keep thinking how different things would have been without Coach Pollock, and my family. On the day that Vern Pollock passed away this week, my heart litterally broke! All I could do was shed a tear and fall on bended knee. Once again I felt that old familiar feeling of being left alone to fend for myself without my mentor and good friend, Coach Pollock. Who knows what will become of me without the ability to touch base with Coach. Most recently I've mostly communicated though Vern's wife, Jean Pollock! But I take heart in knowing that the lessons and guidance that Pollock had given me will help me keep looking for new subtle blessings and gifts that present themselves. I know that it may take years to finally find the connection or outcome of what Vern Pollock has already revealed to me through his mentorship, and I know that he's looking down on me today, with joy in his heart that he had done a great job of living and had always taken care of the boys who played for him all these years.

My wife is an artist, and after 27 years of being married, I've begun to paint and look for a new domino effect. As a result of watching, listening and helping my wife deliver paintings and having art shows, I'm just now believing that being married to an artist has presented me with a subtle gift that I had no idea I would ever possess. Perhaps this blessing started years ago as I was taking art classes at Carbondale's University Grade School, and this blessing has been in hiding within me until I married an artist and began to look at retirement as a step to a new career in becoming more creative. The art of painting wildlife is just now revealing itself as a way to move forward to another outcome, one of knowing that I can be creative as an artist. In the true spirit of coaching, after being accepted in three art galleries across the Country, and developing my skills as an oil painter, when I recently sent some ideas of "Terrier" oil paintings to Coach Pollock he asked me to "Never be too quick to quit my day job!" We had a good laugh over it and Coach later wrote, that "I over kicked my coverage on that Terrier Dog painting." It wasn't the first time that his words gave me joy and made me cry. Whatever the message or gift that is brought before you, I'm just beginning to understand what it takes to grow with my journeys and I try to look at each turn in my own domino effect, because it may begin a path to something else and a way to move myself and my family forward. My hope is that those little blessings or gifts that you are presented, when things make a turn in your life, will be inspiring to you once you look at them from a distance.

Thank you, Jean, for your love of my Mentor all these years.

Rest In Peace My Coach…..I will always be in your debt and will never forget you.

enough