My Uncles

My Uncle Ishmael

The next child born to David Abner and Elsie Elizabeth Arnold was Ishmael Worth.  He was born is 1912.  Both Earl and Ish were big, strong farm children.  Earl went into teaching and later engineering; whereas, Ish studied wood working and carpentry.  Ish gained a degree in his chosen vocation.  He was one of the finest craftsmen in carpentry and cabinet making in East Texas.  His employers often encouraged him to go into business for himself, but he had no interest.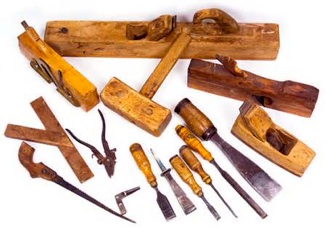 Dad was really young when Ish had already gained most of his carpentry skills and had a large selection of tools.  Dad said Ish had spent an entire day crafting a really nice wagon tongue.  When he was about to finish, a neighboring relative came walking by and stopped to study this perfect wagon tongue Ish had spent the whole day building.  The neighbor was Miss Birdie's brother, Doyle McClendon.  Earl wrote in his book years later about Doyle running trotlines around old Graceton.  Well, Doyle finally slowly spoke.  "Ish, I think you put that trace chain post on the wrong side of that wagon tongue."  Dad said Ish turned beet red.  A minute later, Ish had beat that brand new wagon tongue into tiny splinters. Doyle walked slowly away down the road without looking back.  Uncle Ish had an Irish temper.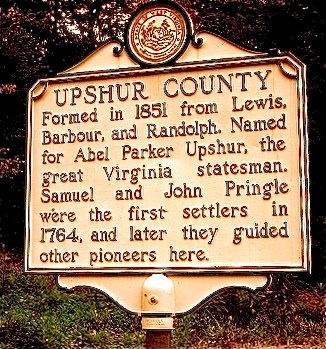 Ish married Flossie Mae Hill, and they had I. W. Arnold, Jr. (Tussie) in 1933 and Charles James Arnold (Jimmy) in 1935. Tussie was the only grandchild David Abner lived long enough to see.  Granny told me later that Abby had a stroke about the time Tussie was born.  Flossie would take the new baby into Grandpa's bedroom and lay the baby in the bed with him. Flossie told me, many years later, about Abbys' funeral.  She really was still a little girl at the time.  She said it was a hot day in Texas, and my grandfather's body was sweltering at the Mattox Cemetery awaiting word from Flossie who wasn't convinced he was dead.

Granny had a photo of a military camp in Oklahoma that Earl and Ish had attended for some small pay.  I got the old photo decades later.  It was of a reserve summer military unit standing in their uniforms in formation with their officers on horseback.  This was not long after World War I.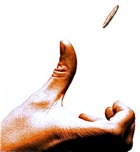 My Dad told me about Earl and Ish working as roadhands in the summer. Dad said they would come walking home flipping the brand new silver dollars the road commissioner had given them.  Dad told me that when he was about six years old, those flipped dollars in the air "looked as big as a wagon wheels" to him.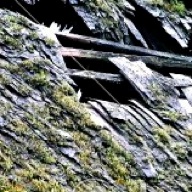 Flossie and Ish lived at various places around Upshur County when the boys were young.  They had a house on a road behind our 50 acres near a small community.  His neighbor had a large hole in his roof.   Jim told me much later that the hole, "...was big enough to throw a big tom cat thru."  Ish, apparently, was greatly troubled by the hole in his neighbor's roof because he gathered up some scrap lumber and shingles from his jobs and patched the neighbor's roof. The home owner was so happy that he told Ish, "I'm gonna name my next child after your wife!"

Many years later, after Granny died, Jim took me down that road and stopped at the neighbor's store.   Jim bought us a soft drink and asked the owner of the store if he knew who I was---pointing at me. The man studied me a few seconds and answered with, "That's either Tussie or Grady."  Then his son came in and was introduced as Flossie Mae.

Ish built a two room house for his little family just up the road from Granny's house.  Decades later, Granny and I would feed and water hens hatching new peeps in the house. Jim told me in the 1950's that living in the tiny house were some of his fondest memories of living with his parents.  There was a little tree in the front yard he and his brother spent time climbing.  When I came along, the tree was still there  as well as a shallow well.  Granny would rent the house to families working around Upshur County while I was still very young.   I remember playing with their children.

Apparently, Ish had a restless soul because he would wash and dress up to step out on a Friday nights to pursue the wilder side of life with the local  ladies.  But my tiny Dutch Granny would meet him at the door and wrestle him down to the floor and take his pay day cash off of him.  Ish's mischief  caused him a divorce.  My dear old granny took the two boys, and Flossie took off for Houston. 

Later, Ish was drafted for WWII, but Ish was too old to conform to any type of regimentation, so the Army sent him on his way.  Not much later, he met and married a twin from the Williford family, Alma.  She was a tall, attractive red-head.  Ish was no match for Aunt Alma.   She kept the bit tight in his mouth for the rest of his life.  They had a boy, Randolph (Randy), a year younger than me, and then a girl, Jo Ellen.

Ish and Alma would come by the house to pick up Granny and me to go to Gilmer on Saturday mornings. Granny would buy our next week's groceries at the Piggly Wiggly after walking around the Gilmer square visiting with merchants, stopping at the post office and bank.   She would pay on items she had on lay away and buy thread and needles for her Singer sewing machine.  I was given a quarter with instructions to get a haircut.

Jim took me for my first haircut at Gilmer.  All the barbers knew Jim.  He had once lived in Gilmer for a while with his brother, Ish and Flossie.   Jim instructed my barber to give me a flat top haircut.  My white blond hair was long and shaggy.  The barber did a great job.  My hair was really nice and flat after that.  I gave the barber the quarter and we were on our way to Mrs. Lovelles' grocery and hamburger shop.

Mrs. Lovelle always had people standing or sitting in line for her hamburgers. She sold them for 22 cents each or five for a dollar.  Jim ordered five, and I sat in an odd ancient kitchen chair.

The grill was large and wide.  Another lady helped on Saturdays.  Hardly anyone ever bought any groceries in the store in Gilmer.  We never knew what her secret was. We would watch her magically take a small ball of hamburger meat, soaked over night in her secret ingredients, and mash it flat on a piece of paper on the grill.  Another lady wrapped,  bagged, and exchanged the little bags for cash as fast as she could work all day Saturday.

When we got home, the three of us would set plates and open that bag.  The burgers were so good, we never had any leftovers.

Ish, Alma, and their kids would show up Sunday mornings to go to church.  Our little road started out as an extension of Aunt Nolie's driveway.  The other end started up by the old Mattox Cemetery. It went up and down the humps in the top of that old sand hill.  When Abbie bought the 50 acres, he extended that driveway to his house.   Years later, the road was extended to another farm-to-market road.  At this second intersection, Harve Helms had the Graceton Church of Christ built on his land.

Sometimes Granny would not wait on Ish to show up, and we would walk to the church.  As we walked along, she would help me find a verse for my class.  One Sunday evening when I was searching through her Bible, I read the red-lettered words of Christ to her, "It is easier for a camel to go thru the eye of the needle than for a rich man to enter the gates of heaven." Granny said, "A really good selection, and one day you may be able to understand those words of Jesus."  We quietly walked on.

After we came back from France, Ish and Alma would show up without Randy and Jo Ellen, but with their boat in tow behind his Chevy work truck.  They would take me up to the Lake o' the Pines fishing. We spent summer Sunday afternoons and holidays there.  I remember fishing with them one time for crappie and bream.  I had something large hit my hook.  It took me a while to bring it to the surface.  A large, dark, weird looking fish came to the surface.  I had never seen anything like this fish before.  Ish told us I had, "Caught an ol' Grennal!"  This fish was about two feet long, shaped like a channel cat fish, but it had a large, round maroon spot back near his tail.  It was too large to put in our fish bucket, so Uncle Ish took him off my hook and placed him in the floor of the boat. This type of fish had bones in his head which he could grind together and make noises. We fished at another spot for a while as we listened to that fish grinding his bones.  Finally, Uncle Ish looked back at me and picked up that fish again.

He said, "I'm tired of this fish begging to be released," and slowly lowered it back into the water.  Aunt Alma and I just looked at each other in disbelief.  We never said a word about it again.

But that was my big, strong Uncle Ish.  He even had compassion for a fish.

Ish and Alma used their inheritance to buy a large farm and house about three miles from Granny's house.  Sometime later, they sold the old house to Mr. Simpson, our vocational ag teacher, who moved the house to some property he had bought from Ish.  Ish used all of his accumulated carpentry skills to build a new home on the sight of his original home.  It was a fine home built with the skills acquired from a lifetime of cabinet making.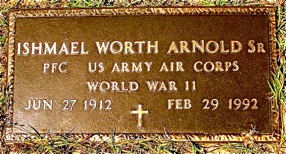 enough