RV Travel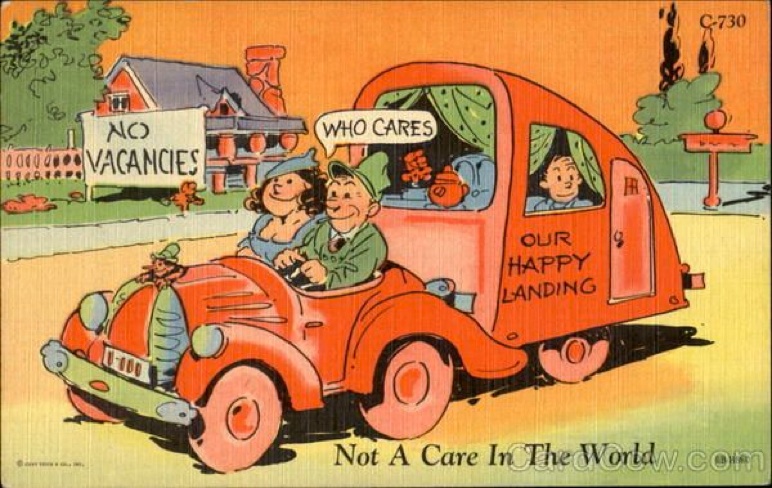 Patti and I both retired 9 years ago and decided it presented a good opportunity to travel and see a little of the country. I actually should say that Patti retired. I just quit working. Normally retirement includes some type of ongoing income and since I had about 40 different jobs during my career, I never was at one place long enough to generate a retirement plan and saving money was never a strength of mine. Lucky for us, Patti worked in the public education system for nearly 40 years and California does have good retirement benefits. 
I have never liked to fly and international travel has never appealed to me so we thought an RV would provide us with a good way to see some of the United States. It should be noted here that Patti is a very accommodating person and adjusts easily to most of my preferences. She would be just as happy visiting Italy, France, or some other European country, but those destinations didn't fit well with our budget. 

We purchased our first RV and had it about a year. After a few months we knew more about what we liked and disliked so we traded the first one in on a larger motorhome with more features. We have now owned the second RV for 8 years and if we're lucky (or unlucky) enough to live to 100, it will be paid off. That's a slight exaggeration, but it is an expense that seems everlasting. 

One of the lesser appealing features of an RV is the gas mileage. We get about 6-8 miles to a gallon and with gas now over $4.00 a gallon in California, we could soon be on the Governor or President's list of folks in need. Everyone else seems to have their hands out, so why not us? I know that at one time during Covid-19 some California inmates were being paid unemployment benefits so it doesn't seem that far-fetched for us to be subsidized for gasoline.

We have visited some beautiful places and since we have always owned a dog(s), the RV has been a good way to have them travel with us. I remember one early morning in Wyoming when Boomer got wind of some deer about half a mile away and took off after them. My shins were sore for about a month after finally catching up with him. There was also a time in Las Vegas when the temperature was about 189 degrees, or so it seemed, and we had to carry him to the dog park because the asphalt was too hot. A thirty pound dog may not seem like much but your back will tell you differently, especially in that climate.  

Once on a trip to Denver our sewer line broke while we were in an RV park and created a mess that you don't even want to visualize. I immediately went in to get Patti and told her she needed to clean it up while I went to the camping store to purchase a new hose. I still have never been forgiven for that.

We were traveling between Phoenix and Flagstaff once when the RV started overheating and came to a stop. We had a truck come and tow us back to Phoenix, which was about 50 miles. We got a room at a Red Roof Inn while the RV was being repaired and were almost evicted when the desk clerk discovered we had two dogs, which was one over the limit. Fortunately we were only there one night and didn't have to walk to another hotel the next day. When we went to the dealership to get the RV the lot attendant side-swiped a car on the lot when he was pulling it up so we got to spend the day in the waiting room with the two dogs while the dent was repaired. 

There are several other incidents that have occurred but the good has always outweighed the bad and we hope to keep traveling to create more laughs. I'm sure our kids won't mind paying off what we owe when we're gone.      

enough