Rosie Orozco

Rosie Orozco---I  smile each time I hear her name.  Rosie passed away several years ago.   In our little tours of our town, Somerville, we often mention her as we pass her old home which is occupied by other folks now.

I started my teaching "career" in 1967.

After teaching my first classes on a sunny morning, I walked from the "new" high school built in '37 over to the old red two-story school house, a handsome building built in 1905.  It was time for lunch, and as I climbed the stairs to the second floor, the aroma of wonderful foods floated over me.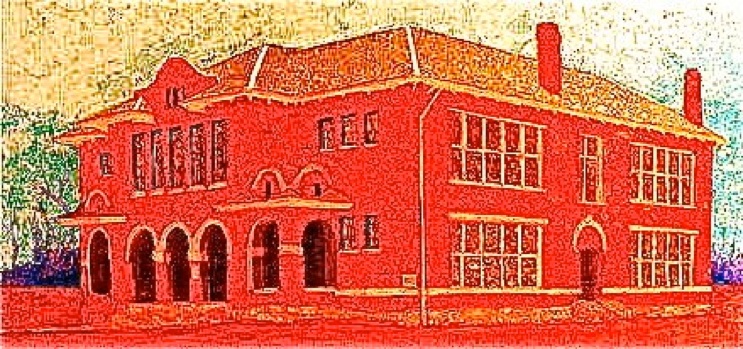 I soon discovered that the person responsible for these wonderful smells was Rosie Orozco.

I recall the food served in my high school, Pineville High School, back in the late 50's with which I do not recall ever having any complaints about, but what Rosie was doing with food was on a much higher plane.  She served enchiladas, tuna fish sandwiches, chicken fried steaks---all of the highest quality.  However my favorite meals were those composed of fried chicken with homemade rolls.  Her meals rivaled any four star restaurant.

Speaking of her fried chicken reminds me of a little exchange with Rosie one day early on in the lunch line.  We were each given a choice of white or dark meat.  My response was always "breast."  Now, being a southern boy, I referred to white meat as "breast."  I guess Rosie had had enough of my Southern ways because she responded to my "breast" with "white meat."  I had been corrected and stayed corrected for the remainder of my years with Rosie.

In the first year I taught, one of my extra assignments was to go to Rosie and Ben's home to deliver lessons to their son, Robert, or as he then preferred, Bobby.  As I recall, Robert had had a back operation involving a metal rod being implanted in his back to correct a curvature of his spine.  Robert was a bright young fellow who at the time was pretty much bound to a bed.  I would deliver graded lessons and new lessons to Robert, and we would spend a little time just chatting.  I do recall chatting with Robert about the possibility of his becoming a lawyer.  The truth is that becoming a lawyer was a secret goal of my own.  Of course that never happened, but to my amazement, Robert went off to Austin to the University of Texas and came home with a Texas law degree.  Good on him.

I can only imagine how proud Rosie and Ben and his sisters, Dora and Linda, and the other members of his family must have been.  They had a graduation party at Rosie and Ben's home.  They invited Linda and me to the gathering, but we were unable to attend.  I don't recall the reason, but I've always regretted not participating.

I don't recall ever seeing  Robert in all the intervening years, but I understand he's an active lawyer in Bryan-College Station.

Rosie and I always had a very friendly relationship…well, almost always.  There was a point in those early years that she became unhappy with me about something.  I've never known exactly what my sin was, but I'm sure it was because of some perceived wrong against either Bobby or Dora or Linda.  It was very apparent that she was unhappy with me by the fact that she delayed serving my meal until all other options had been exhausted.  It took me a while to realize what was happening, and before long other teachers began to notice and tried to get in line for food before I did.  I never resented her reprisal but instead waited patiently until one day unexpectedly I was given a reprieve.

During all the years that Rosie was in charge of the kitchen, the most amusing incident occurred one day when Rosie suddenly appeared in the lunch room area where I and a few of my fellow male teachers were sitting around talking after lunch.  Rosie didn't say "pretty please," but said directly for all of us to come lift  some heavy boxes for her.  No one blinked an eye.  The boxes were moved immediately.

Anyway, Rosie retired, and I almost starved to death.  The next "cook"…well….

After her retirement, she would occasionally prepare enchiladas of which Linda and I would always get our share.

We miss Rosie.

enough