Yeah, He Said That

Through the years I have gotten many good laughs from notable sports figures who may or may not have been attempting to be funny when they were interviewed or just having a normal conversation. I'm not sure how or why I remember some of the quotes but here are some of the ones that I found to be funny. Although the grammar may not be correct, the quotes are written the way they were spoken. 

There was a well-known boxer years ago named Willie Pep who made and squandered a fortune. When asked how he had gone through all of his money Willie said "fast women and slow horses."

The Detroit Lions had a quarterback in the 50's named Bobby Layne who was known to imbibe a little. The Lions were playing the Colts and Bobby was not having a good day. In the second half he was tackled for a loss by a player for the Colts named Art Donovan. Art was on the Tonight Show after he retired and told the story to Johnny Carson. He said when he was at the bottom of the pile after tackling him that Bobby's breath just reeked of alcohol. Art said "damn Bobby that must have been some party you were at last night" and Bobby said "naw, I had a couple of shots at halftime."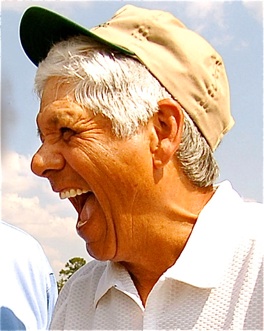 Lee Trevino was a very good golfer with a huge personality to match. There was a young player who was appearing in his first pro tournament and he was paired with Trevino in the first round. Knowing how much Trevino talked and concerned that it would affect his concentration, he told Trevino on the first tee that he didn't mean any disrespect, but he really didn't like to talk when he competed. Trevino said "you don't have to talk, all you gotta do is listen."
A former Boston Celtics basketball player named Antoine Walker was once asked why he shot so many 3's (three point shots). Antoine said "because there ain't no 4's."

Another former NBA player named Hot Rod Hundley became better known for his announcing career after he retired than for his days as a player. Hot Rod was a good storyteller and one of his best was about the time he and his Lakers teammate Elgin Baylor "lit up" the Knicks for 78 points in one game. The part he always left out was that Baylor had 71 and Hot Rod had 7.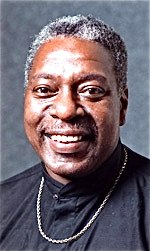 Bob Hayes was a wide receiver for the Dallas Cowboys in the 60's and was also the fastest man in the world during part of his career. In those days track contestants ran a 100 yard dash rather than 100 meters. Hayes had clocked a 9.1 for the 100 which was the world record. In a football game against the Giants, Hayes caught a slant pass over the middle from Don Meredith and he was being defended by a player for the Giants named Clarence Childs, who was also a track star. There was an epic footrace to the end zone for about 70 yards but Hayes was able to score. After the game Hayes was asked if he was worried that Childs would catch him and he said "naw, I knew Clarence in college. He's just a 9.4 man."
Joe Garagiola who had a cup of coffee in the major leagues once but was better known for being a baseball announcer, told a story about a game where there was a runner on first base and the batter hit a long ball into the gap in right field. The batter rounded second and decided to try for a triple but he didn't know that the runner who had been on first had stopped at third  base. The batter slid into third and the runner who had stopped there looked down at him and said "where the hell are you going?" The hitter said "back to second, if I can make it."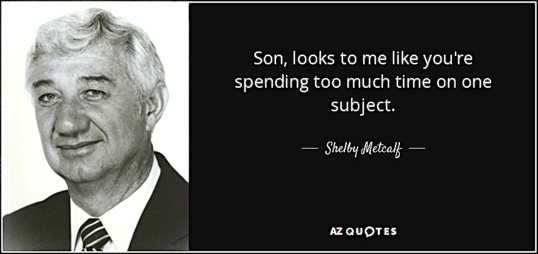 A very well-known story but still one of my favorites was about Shelby Metcalfe coaching the Texas Aggie basketball team years ago. One of his players got his grades for the semester and he got four F's and one D. Shelby told the player "son, I think you're concentrating on one subject too much."
I'm not sure that the readers of this essay will find any humor in any of these stories because I once tried to entertain an audience by telling some of them and I felt like I was speaking to the wax museum. If there had been a trap door I would have tried to escape. John's normal ending (Enough) at the end of each essay is certainly appropriate for this one. 

enough